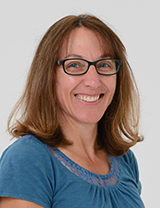 Kim Stanowski is a physician assistant in the Department of Orthopaedic Surgery at UConn Health. She manages orthopaedic emergencies, and provides inpatient and operative care of orthopaedic patients with hip fractures, trauma, total joint arthroplasty, adult reconstruction and complex bone and joint infection at the John Dempsey Hospital.
Appointment
UConn Musculoskeletal Institute
Specialty
Subspecialty
Certifications
National Commission on Certification of Physician Assistants
Connecticut Academy of Physician Assistants
American Academy of Physician Assistants
Education
B.S., Central Connecticut State University
P.A.-C., Yale University
State Licensure
Connecticut
Awards
Central Connecticut State University: Magna Cum Laude
Eastern College Medal of Merit, Scholar Athlete Award, Departmental Honors
Yale University: Honors Recipient for Thesis Review Paper
Research Interests
Clinical Research
Clinical outcome studies with focus on scaphoid non-unions.
Working in conjunction with the UConn Center on Aging studying outcomes with extended home physical therapy programs after hip fractures.