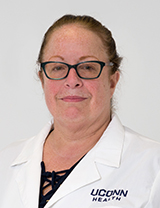 Carol Nati is a nurse practitioner in the Department of Orthopaedic Surgery in the UConn Musculoskeletal Institute at UConn Health. She specializes in the treatment of patients who need total joint replacement as part of the Center for Joint Preservation and Replacement. She is also the administrator of the total joint program. Carol has over eight years of experience as an APRN and over twenty years as an operating room nurse. She provides excellent preoperative, intraoperative, and postoperative care for our patients at John Dempsey Hospital, UConn Health.
Appointment
A.P.R.N., Department of Orthopaedic Surgery, UConn Health
UConn Musculoskeletal Institute
Adjunct Clinical Faculty, Quinnipiac University
Specialty
Subspecialty
Certifications
American Nurses Credentialing Center (ANCC)
Education
Diploma, Saint Mary's Hospital School of Nursing
B.S.N., Central Connecticut State University
M.S., Acute Care Nurse Practitioner, UConn
Honors
Sigma Theta Tau International, Honor Society of Nursing, 2002
State Licensure
Connecticut, R.N. and A.P.R.N.