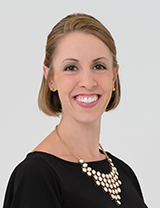 Andrea Osipiak is a nurse practitioner in the Department of Orthopaedic Surgery at UConn Health. Andrea has spent the last 10 years working with patients with a variety of musculoskeletal problems including fractures, degenerative diseases, preoperative and postoperative management and trauma. She also has extensive experience in the management of patients with musculoskeletal tumors and metastatic disease. Andrea offers expert care as part of the orthopaedic team working with our surgeons.
Appointment
A.P.R.N., Department of Orthopaedic Surgery, UConn Health
UConn Musculoskeletal Institute
Specialty
Certifications
American Nurses Credentialing Center (ANCC)
Oncology Certified Nurse (OCN)
Education
B.S., Nursing, Elmira College
M.S.N., Adult Nurse Practitioner, New York University
State Licensure
State of Connecticut, A.P.R.N and R.N.
State of New York, A.P.R.N, and R.N.
Awards and Honors
Sigma Theta Tau International Honors Society
National Collegiate Nursing Award
 The Dr. Kathleen Sward Nursing Excellence Award