The UConn Health Management Development Program is the vehicle for meeting mandatory regulatory requirements and provides fundamental skills specific to employees with leadership responsibilities at UConn Health.
Who Should Attend and Requirements
Newly hired or newly appointed supervisors, managers, and administrative staff who supervise others
All staff who supervise others are required to attend "Managing a Harassment-Free and Respectful Workplace" within six months of hire
Program Benefits
Updated curriculum featuring new presenters, content, and materials
Fundamental knowledge of key areas of responsibility including finance, compliance and human resource management
Exposure to decision makers and organizational resources
Networking opportunities with fellow participants
Support from HR specialists and managers
Program Courses
The Management Development Programs is offered through online and presenter led courses. The online courses are taken on Saba, UConn Health's online learning system. The presenter led courses are held at 16 Munson Road, in the fourth-floor training room unless otherwise noted. All course registrations are done through Saba.
---
Online Learning
Compensatory Time

This online learning module identifies managerial responsibilities in regards to managing employees' eligibility, accrual, use, and payout of compensatory time.
Content Owner: Employee and Labor Relations
Workforce Planning
This online learning module explains the systems and documents used to classify job groups, titles, descriptions, qualifications and pay levels for all positions at UConn Health. Learners examine key aspects of workforce planning and resources to support decision-making in alignment with strategic goals. While leaders may be familiar with these practices from a previous organization, this module is essential for gaining an understanding of the tools and procedures unique to UConn Health.
Content Owner: Margo Granger, Personnel Specialist, Compensation and Classification, Human Resources
Hiring the Right Talent I
This two-part hybrid course examines the UConn Health hiring system. Part I is an online module that includes steps for requesting the hire of a position, transaction documentation and the manager's role in onboarding a new employee. After completing Part I, participants will attend a live session with members of the Employment Services team to discuss best practices, case scenarios and identify key ingredients in successfully recruiting and hiring the right person for the right job.
Content Owner: Joyce Smith, Director, Employment Services, Human Resources
Prerequisite Course: Workforce Planning
Instructor Led
Compliance and Ethics
UConn Health is committed to the highest standards of conduct for all employees and compliance with all relevant federal, state and local regulations, laws and guidelines. This session examines the UConn Compliance Program's structured approach and identifies the manager's role in supporting organizational compliance. Discussion topics include common areas of risk, reporting mechanisms and how to integrate compliance activities into everyday workflow.
Presenter: Virginia Pack, Associate Compliance Officer, Office of Audit, Compliance, and Ethics
Date: Wednesday, June 14, 2017, 9 - 11 a.m.
Financial and Logistics Management
In this session, participants learn how to use UConn Health financial systems to prepare, analyze and manage departmental budgets and the logistical management systems to navigate the numerous services provided. Fiscal experts identify key data reports that support managers with strategic decision-making and resource allocation to meet departmental goals and objectives. Logistic Management experts align the manager's role with the services of shipping/receiving/distribution, patient transportation, warehouse/PAR supplies, moving/storage and asset control.
Presenters: Chad Bianchi, Director, Finance; Nicole Baker, Supervising Accountant, Fiscal Services; Andrew Kucia, Staff Accountant, Operating Budget; Keith Petit, Logistics Property Manager, Office of Logistics Management
Date: Thursday, May 11, 2017, 9 - 11 a.m.
Hiring the Right Talent II
After completing the pre-requisite, Part I online learning module, participants will meet in person with members of Office of Institutional Equity to discuss content related to recruiting a diverse applicant pool, implicit bias, and compliance with the University's search process. In addition, the Human Resources Employment Services team will hold a question and answer session to discuss best practices, case scenarios and identify key ingredients in successfully recruiting and hiring the right person for the right job.
Presenters: Employment Services, Human Resources, and Office of Institutional Equity
Date: Thursday, May 18, 2017, 9 - 11 a.m.
Prerequisite Course: Hiring the Right Talent I
Managing a Respectful & Harassment-Free Workplace
All staff who supervise employees and/or students are required to attend this session within six months of employment. Participants will gain strategies for maintaining an organizational culture that fosters respect, civility, values and encourages teamwork and creates an inclusive environment. There will be a specific focus on the tools managers need to both prevent and respond to sexual harassment.
Presenter: Elizabeth Conklin, Associate Vice-President of Office of Institutional Equity, Marisol Cruz St. Juste, Organization and Staff Development, Human Resources
Dates: Tuesday, April 25 or Monday, June 5, 2017, 9 a.m. - 12 p.m.
Procurement Operations and Contracts
This session outlines procedures, systems, and resources for acquiring materials, equipment, and contractual services at UConn Health. Participants examine best practices that ensure decisions are made in the best interests of the organization and in compliance with ethical standards, applicable laws, regulations, and policies.
Presenters: Berri Gerjuoy, Assistant Vice President and Lori Acomb, Director, Procurement
Date: Thursday, June 8, 2017, 9 - 11 a.m.
Safe & Healthy Workplace Strategies
At some point in our lives, we may all experience personal or work stressors that can affect performance on the job. Managers need the skills, knowledge, and confidence to recognize and address a wide array of employee issues that impact the work environment. This session explores the UConn Health Employee Assistance Program (EAP), a vital resource for employees and managers dealing with almost any difficulty. Participants review guidelines and resources for managing diverse workplace issues including job performance, inappropriate behaviors, and acts of aggression and violence.
Presenters: David Francis, Employee Assistance Counselor, Employee Health; Marisol Cruz St. Juste, Education & Development Specialist, Human Resources
Date: Thursday, April 27, 2017, 9 - 11 a.m.
Time and Attendance: Payroll, Leaves & Worker's Compensation
Punctual and regular attendance is an essential responsibility of each employee at UConn Health. This course outlines the tools and procedures to properly collect, monitor and verify employee time and attendance. Participants will examine the manager's role in handling various employee leaves of absence, including FMLA (Family and Medical Leave Act) and Workers' Compensation and identify the organizational resources available to assist them.
Presenters: Brian Kleinhen, Personnel Specialist, KRONOS Administrator; Joann Lamere, Personnel Specialist, Employee Leaves; Kathy Rouleau, HR Associate, Workers' Compensation, Human Resources
Date: Tuesday, June 13, 2017, 9 - 11:30 a.m.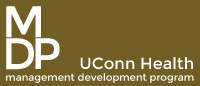 Contact
Rosie Wright
860-679-3419
Spring Schedule
Online
Compensatory Time
Online
Workforce Planning
Online
Hiring the Right Talent I
Tuesday, April 25
Managing a Respectful & Harassment-Free Workplace
Thursday, June 8
Procurement Operations and Contracts
Tuesday, June  13
Time & Attendance: Payroll, Leaves & Workers Comp