Strategies to Advance Health Equity Among Boys and Men of Color
UConn HDI is leading several arts-based initiatives to advance health equity in CT starting in June 2018. They will focus initially on visualizing health equity for Boys and Men of Color.
Our work builds on initiatives like the National Academy of Science and Medicine Visualizing Health Equity Project, which recognizes the power of art to amplify creative strategies and solutions. Bringing art to the table can stimulate authentic community dialogues about health equity among boys and men of color and accelerate home grown innovations.
HDI's arts-based strategies also leverages Hartford's rich tradition and ecosystem of arts and cultural centers such as the Wadsworth Atheneum,  the Bushnell, Real Art Ways, TheaterWorks, Hartford Stage, the Artists' Collective, and many others committed to celebrating the power of art to inspire discussion, critical social analysis and community connectedness. This strategy will help us identify and connect with statewide stakeholders to establish the CT Boys and Men of Color Multi-Sector Alliance.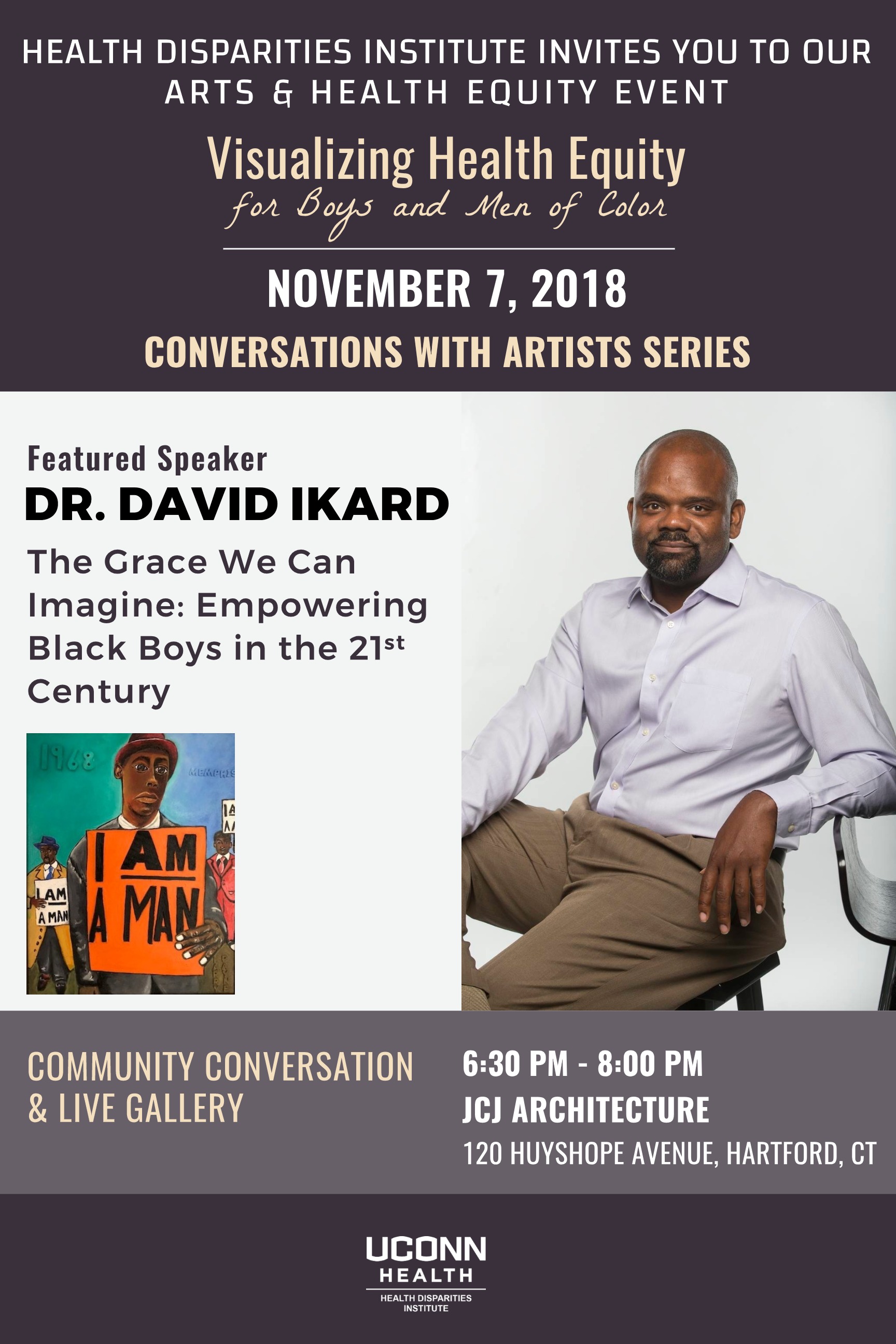 The UConn Health Disparities Institute, through its Visualizing Health Equity among Boys and Men of Color Artist Series, invites you to a conversation and live gallery event with Dr. David Ikard, professor of African American and Diaspora Studies at Vanderbilt University. Dr. Ikard's talk is entitled, "The Grace We Can Imagine: Empowering Black Boys in the 21st Century." He will explore the themes "I Am a Man" and "Black Boy Joy" through art, presentation and discussion to disrupt the single-story narrative of boys and men of color, promote social justice, and eliminate health disparities.
For more information about the upcoming Visualizing Health Equity events, email UConnHDI@uchc.edu