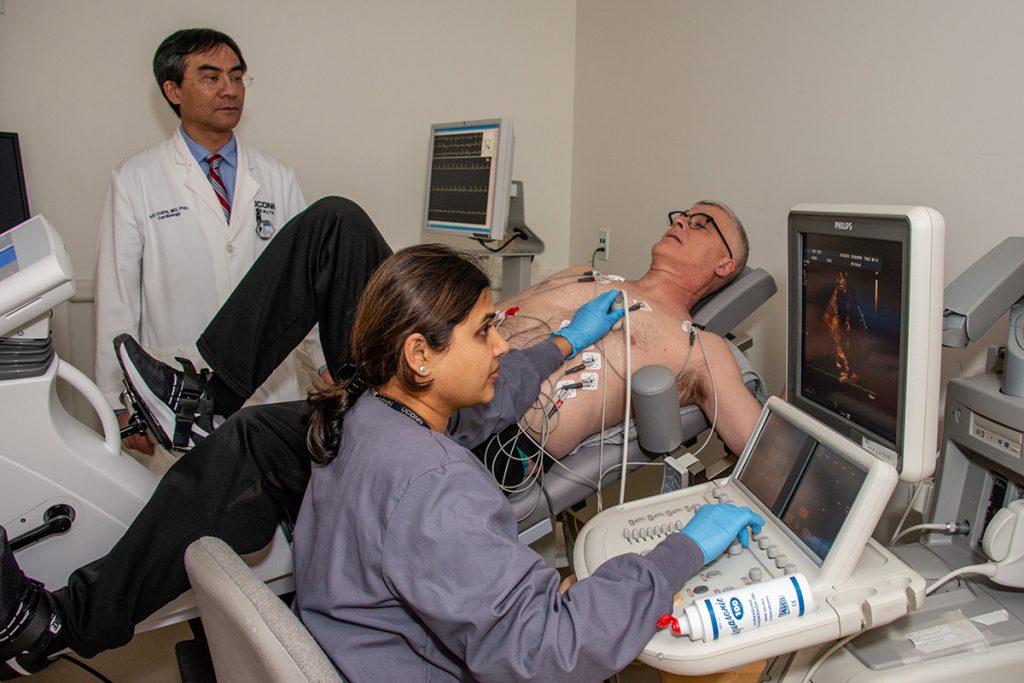 The traditional exercise stress test using a treadmill is giving way to a stationary bike, and with this progression comes an added benefit to get the most complete evaluation of your heart's function.Not only does this approach remove limitations, it also results in a better picture of the heart's performance.
For those who have difficulty with the speed and incline of the treadmill, limited by joint pain or a medical condition, the stationary bike offers a safer and more realistic way to get their heart rate up to the stress test's optimal 85 percent of their maximum heart rate.
Analyzing the heart's performance while stressed (compared to resting heart rate) gives cardiologists a more complete picture of how well the heart is functioning and can reveal potential signs of heart disease.
With that in mind comes the second – and more significant – advantage of the seated stress test: the simultaneous echocardiogram. It allows doctors to obtain cardiac ultrasound images of the heart, in real time, as the heart rate is peaking.
This yields information about the structure of the heart and how well it pumps blood while under stress, and doing so during exercise – instead of after exercise while the heart rate is slowing down – provides the most telling data.
The simultaneous echocardiogram is only possible on the bike because the echocardiogram probe can remain still on the left side of the patient's chest while he or she is reclined and pedaling.
Because the upper body bounces with each step, the echocardiogram has to wait until the patient gets off the treadmill. The heart rate, while still elevated, is shy of the target heart rate, and therefore the cardiac ultrasound images are not optimal in that case.
Learn about diagnosing heart disease at the Pat and Jim Calhoun Cardiology Center at UConn Health, or call 860-679-3343 for an appointment.
Source:
Kai Chen, M.D., Ph.D.
UConn Health cardiologist
Dr. Chen specializes in noninvasive cardiology, preventive cardiology, and cardiovascular imaging in the Pat and Jim Calhoun Cardiology Center.