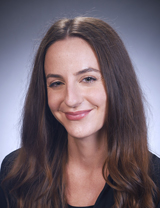 Laura Chaplin, D.O.
She/Her
I was born in Miami, FL and was raised overseas due to my father's work as a journalist. My extended family is in Connecticut and I returned home to the U.S. in the 10th grade to attend high school in Farmington. I completed my undergraduate education at McGill University in Montreal, where I majored in Political Science and minored in English literature and Chinese language. I went on to complete a post-baccalaureate program in Premedical studies at Harvard University Extension School and to work in breast cancer research at Dana Farber Cancer Institute in Boston.
Early on in medical school at the University of New England College of Osteopathic Medicine, I developed a strong interest in becoming a family medicine physician. I was drawn to the field's broad scope of medicine, opportunities to form long-term relationships with patients, and emphasis on prevention. My experiences working at small family practices and federally qualified health centers in my third and fourth years of medical school solidified my desire to work in primary care with an underserved patient population. I also have interests in behavioral health, addiction medicine, and integrative medicine.
I am thrilled to be returning to Connecticut to join the UConn Family Medicine team!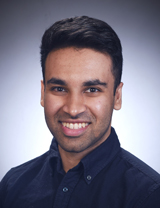 Aatif Hussain, M.D.
He/Him
Born and raised in Markham, a suburb just north of Toronto Ontario, I spent most of my days laughing and having lots of fun in the sun. As a kid, you could find me singing at the top of my lungs on buses or striking up conversations with anyone and everyone.
I attended University of Toronto and graduated with a Major in Human Biology and Psychology. During my time as an undergrad, I was involved in Improv Comedy which helped me share my laughter and joy among many students. I also taught Organic Chemistry and Statistics as a TA. The conversations I had with my students and the joy I received from seeing them improve throughout my time as their teacher was a feeling I wanted to chase throughout life.
After graduating, I attended St. Georges University School of Medicine spending my first year in the amazing city of Newcastle in the United Kingdom before arriving on the lush island of Grenada. I have made friends across the world, have had experiences of a life time and am now extremely excited to continue my adventure at UConn!
I chose Family Medicine because honestly, what is more wholesome than living your life in conversation with people you help and see grow to experience the same joy in life you were blessed with. Laughter is a medicine I hope to prescribe during my time here at UConn and beyond!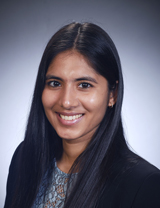 Silky Kataria, M.D., M.P.H., Chief Resident
She/Her
I was born in New Delhi, India but moved shortly after with my family to Cambodia where I started my primary education. My father is an Indian diplomat and for that reason I have had the opportunity to travel a lot and had the ability to experience different cultures and backgrounds. In 2004, I came to New York City which I now call home. I completed my high school and college education (Queens College) in New York and went on to Medical School in St. George's University where I also received my Masters in Public Health. Throughout my travels, my medical school rotations and the understanding I gained from my public health, all these experiences fueled my passion for serving others. I realized that I always wanted to be a primary care physician where I am able to become a vital part of my patient's continuous journey in life.
I love being around people and having great conversation, so I knew I had to be in a specialty this would be part of my everyday duties. I love to travel, enjoy all water-related activities and love dancing during my free time. While visiting UConn I was absolutely sure that its friendly learning environment and successful training program would help me in becoming the family medicine doctor that I aspire to be. I have no doubt that I will not only enjoy my time here for the next three years, but also come out stronger, wiser and ready to take on any new chapters of my professional career.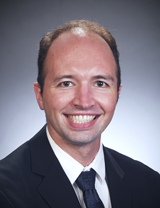 Jared Kozal, M.D.
He/Him
I was born in Omaha, Nebraska, where most of my family still resides. As my father completed his own training and early career in medicine, my two younger sisters and I moved all across the country, from California to Iowa to Texas, before finally settling in Guilford, Connecticut, where my parents have lived ever since. I traveled west to attend college at Stanford University in California, majoring in Biology with a minor in Creative Writing. After graduation, I returned east to attend the University of Connecticut School of Medicine. During my third year clerkships and fourth year electives, I was strongly drawn to the field of Family Medicine, where I found myself relishing both the fresh daily challenges of the inpatient service, the unique practitioner-patient dynamics afforded by continuity of care in the outpatient clinic, and the wide range of diverse learning opportunities that this specialty has to offer.
It is my hope that as I continue to pursue a career as a Family Medicine physician, I will be able to practice in a community-based setting, which will allow me to provide care to those in need, forge enduring trust and relationships with patients, and continue to develop my skills as a primary care provider. Having loved my experience working with the UConn Family Medicine program as a student, I was very pleased to learn I'd be sticking around for residency!
Outside of medicine, I enjoy staying active – I love running (competitively and for fun), hiking, playing basketball, and walking dogs, especially my family's beloved German Shepherd. I'm a big sports fan, keeping close tabs on professional and college football, basketball, and the Premier League. I also love reading and watching movies, being a particularly avid fan of Star Wars and other fantasy stories. But my primary passion remains patient care, and I could not be more grateful and excited for the opportunity to continue my training in Family Medicine here at UConn!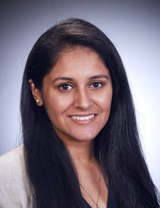 Nirali Patel, D.O., M.S.
She/Her
I am originally from Newark, DE and have spent most of the last 10 years in Philadelphia. I attended Drexel University, where I received a Bachelor of Science in Biological Sciences with a Psychology minor, and a certificate in Social Responsibility in Business. I went on to attend Chatham University in Pittsburgh to earn a Master's in Biology before attending the Philadelphia College of Osteopathic Medicine for medical school.
In undergrad, as an AmeriCorps member, I pursued my passion for civic engagement and social justice by volunteering at a West Philadelphia community resource center. It was here that I knew my passions were best aligned with primary care and thus entered PCOM with the determination to pursue it! My ever-expanding interests include global health, underserved/community health, LGBTQ health, inpatient medicine, and substance abuse medicine. I don't know exactly what my practice will look like in the future, but you will find me advocating and working to uplift and inspire underrepresented women.
I first encountered the UConn Family while attending the FMEC conference during my 3rd year of medical school. They were the first program that I interacted with at the residency fair and fell in love with everyone! I am honored to be joining the UConn Family and can't wait to begin this next adventure.
Outside of medicine and advocacy, my greatest passion is traveling. I love meeting new people, while learning about the history and culture of the places I visit. Otherwise, I am hanging out with my family/friends, painting, reading, watching period dramas/Asian dramas, or trying something new!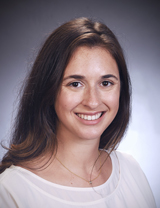 Erin Rosenberg, M.D.
She/Her
I was born and raised in Toronto, Canada and completed my undergraduate degree at the University of Western Ontario, where I received an Honors Bachelor of Medical Science in Interdisciplinary Medical Sciences. I then moved halfway around the world to Tel Aviv, Israel, where I completed my Medical Degree at the Sackler School of Medicine (New York State/American Program) at Tel Aviv University. During my preclinical studies, I was drawn to almost every field of medicine, prompting my initial interest in Family. This interest was solidified during my clinical years, as my passion for primary care and the bio-psycho-social model of medicine was strengthened. I am especially drawn to building meaningful connections with patients, and have seen first-hand the positive impact that the patient-physician relationship can have on health outcomes. I am extremely proud to be the third generation in my family pursuing family medicine, and hope to live up to the amazing examples my grandparents and uncle created for me.
Within the field, I am especially interested in women's health and family planning, as well as patient education and preventative medicine.
In my free time I enjoy participating in anything that has to do with food: cooking, baking, exploring food markets and new restaurants! I also love binging true crime series, travelling, crafty creative outlets, playing with dogs and spending time with my wonderful family and friends. I am super exited to train with the UConn family, and cannot wait to see what the future holds!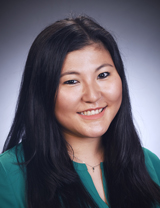 Yukari Ueda, D.O., M.S.
She/Her
I was born in Matsudo, Japan, and moved to the U.S. when I was 5-years-old. I grew up in Maine so I learned to love the outdoors from a young age (and how to get almost any car unstuck from snowbanks during those brutal winters). After high school, I wanted to live closer to a big city so I decided to venture outside of New England. I completed my undergraduate education at Drew University in Madison, NJ with a degree in Biochemistry and Molecular Biology. During my junior year, I had the opportunity to provide pediatric and prenatal care as a student volunteer in underserved communities in Nicaragua. This eye-opening experience solidified my interest in pursuing a career in medicine.
After college, I completed my M.S. at New York Medical College in Valhalla, NY, and attended medical school at Rowan School Of Medicine in Stratford, NJ. During clinical rotations, I fell in love with Family Medicine because of the long-term relationships physicians formed with patients. Additionally, Family Medicine is the only field that encompasses a little bit of every specialty so it keeps me on my toes! I am thrilled to be training as a resident physician at UConn and feel so lucky that I get the chance to continue learning in a supportive environment among wonderful people!
In my free time, you can find me scrapbooking, being a dog mom (I'm really into dog training), and hanging out with the people I love! I'm also a fan of traveling, hiking, board games, and podcasts.