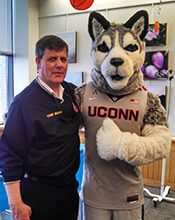 The dedicated women and men of the UConn Health Fire Department have been providing service to UConn Health and the Farmington Valley since 1971. We are members of a small fraternity of college or university operated fire departments protecting their own campus. We provide fire suppression, inspection and prevention service, as well as, emergency medical services at the paramedic level, technical and tactical rescue, and response to hazardous materials incidents. We also provide ambulance transportation for the Farmington campus.
As the campus grows and evolves, we strive to proactively prepare for the new challenges. Our goal is to provide a safe environment for our staff, students, patients, and visitors.
Thank you for visiting us. Please stop again in the future as our site is a work in progress.
GO HUSKIES!
James P. Brown
Fire Chief