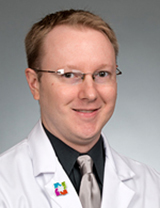 Principal Investigator
Assistant Professor of Pediatrics and Surgery
Email: mbookland@connecticutchildrens.org
Background
Malignant gliomas are a highly aggressive type of brain tumor with extremely poor prognosis. These tumors are highly invasive and are often surgically incurable and resistant to chemotherapeutics and radiotherapy. Thus, novel therapies that target pathways involved in growth and survival of the tumor cells are required for the treatment of this class of brain tumors.
Previous studies from our laboratory showed the ability of p27SJ to interact physically and/or functionally, with several regulatory proteins including C/EBPb and RNA polymerase II, and modulate expression of viral and cellular genes. Further, overexpression of p27SJ/p38SJ alters cell signaling and proliferation through the hypophosphorylation of ERK1/2. Studies using the human malignant glioma cell line U-87MG have demonstrated the ability of p27SJ to modestly decrease Cyclin A production via modulation of ERK1/2 and thereby inhibit cell cycle progression at the S and G2 phases of the cell cycle.
Current Projects
Identification of protein targets for the treatment of highly aggressive brain tumors.
Growing aggressive tumor cells in 2D and 3D matricies (collaboration with Dr. Tang-Schomer) for use in drug screening and tumor biology studies.
Lab Members
Antonina Kolmakova, Ph.D.
Research Assistant I
Phone: 860-679-7845