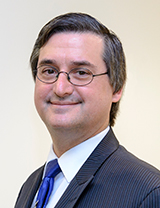 Professor of Medicine
Director, Glycogen Storage Disease Program
Email: dweinstein@connecticutchildrens.org
Overview
Dr. Weinstein serves as professor in the Department of Pediatrics at UConn School of Medicine and director of the GSD Program, a joint venture of UConn Health and Connecticut Children's. UConn Health is home to the GSD program's research laboratories while the multidisciplinary team provides comprehensive clinical care at Connecticut Children's.
Dr. Weinstein specializes in disorders of carbohydrate metabolism with particular focus on glycogen storage disease (GSD), hypoglycemia, and diabetes. As the director of the Glycogen Storage Disease Program, he manages the inpatient and outpatient care for the largest cohort of GSD patients in the world following over 500 people with this disorder. Of these, over 225 patients have glycogen storage disease type Ia, 70 patients have glycogen storage disease type Ib, 50 patients have type III glycogen storage disease, and over 200 patients with types 0, VI, or IX GSD. His patients come from over 49 states and 43 countries to be cared for by him.
Background
Weinstein's GSD Program, is the largest clinical and research program of its kind in the world. Pediatric and adult patients living with the rare, genetic liver disease travel from across the globe for his team's expert care.
Weinstein graduated from Connecticut's Trinity College and earned his medical degree at Harvard Medical School. At Boston Children's Hospital he completed his residency, chief residency, and fellowship in pediatric endocrinology and completed his masters in clinical investigation at Harvard and MIT. He became the director of the GSD program at Boston Children's before moving to Florida in 2005 to pursue gene therapy on dogs with naturally occurring GSD.
Prior to joining UConn Health, Weinstein served as professor of the Division of Pediatric Endocrinology at the University of Florida and director of its GSD Program. As a physician-scientist he has authored over 80 articles and 26 textbook chapters on GSD. He is the recipient of the prestigious international humanitarian award, the Order of the Smile, for helping children around the world with GSD, a recognition shared with Pope John Paul II, Mother Teresa, Nelson Mandela, and Pope Francis. Weinstein was named one of the inaugural Goldwater Scholars in 1989. He is a former Jan Albrecht Award winner from the American Association for the Study of Liver Diseases, and he received the George Sacher Award from the Gerontological Society of America. Weinstein was inducted into the Rare Disease Research Hall of Fame in 2013. In addition to local GSD community outreach, Weinstein's team partners internationally with institutions and scientists in Argentina, Brazil, Canada, China, Faroe Islands, Israel, Mexico, and the Netherlands.
After nearly two decades of dedicated research, Dr. Weinstein will begin human safety trials of his gene therapy. Expected to start in early 2018, UConn will coordinate the trials with collaborating centers all over the world. To donate to the GSD program visit the UConn Foundation, your donations to the UConn Health GSD program team bring  families hope and a lifesaving cure is on the horizon.
Learn More
Visit The Children's Fund for GSD Research.
UConn Health Journal, Free to Be Imperfect.