COVID-19 Safety Protocols
Meetings, Events, and Gatherings - Applicable Safety Protocols
As we return to normal operations at UConn Health and undergo planning to welcome our students back to in-person learning in August, many questions have been raised about UConn Health's existing rules relating to meetings, events and other gatherings involving groups of people.
Below is a summary of applicable rules currently in place that may be helpful to departments. Please continue to adhere to these important safety measures, which remain in place to promote the safety and wellness of our UConn Health community.
Please note that this guidance is subject to change based upon conditions in the future (including, but not limited to, rising transmission rates, concerns about vaccine protection levels, variant spread, etc.). Updates will be issued as needed. Please also visit our COVID-19 Staff Information website for information and updates.
Masking
In accordance with the UConn Health Universal Mask Protocol, mask wearing is required by all individuals inside all UConn Health facilities and while entering/exiting the facilities. Masks must always be worn in common areas (such as lobbies, reception areas, waiting rooms, restrooms, elevators, shared hallways) regardless of the exceptions listed below.
Exceptions - Although mask wearing continues to be recommended in these situations below, at this time, individuals may choose to remove masks in the following limited circumstances:
When individuals are outside and 6' distancing may be maintained;
When individuals are in non-clinical/non-health care settings* and they are working alone in an enclosed space;
While actively eating/drinking, provided 6' distance maintained.
*Non-clinical/non-health care settings do not include any areas where there is provision of patient care services (including autopsies) and health care support services (services that facilitate the provision of health care services, such as patient intake/admission, patient food services, research involving direct contact with participants, equipment and facility maintenance, housekeeping services, health care laundry services, medical waste handling services, and medical equipment cleaning/reprocessing services). Examples of non-clinical/non-health care settings may include administrative offices, academic spaces, research laboratory spaces, and conference/meeting rooms outside of inpatient or outpatient clinic settings.
Screening
All outside participants, regardless of vaccination status, must undergo COVID-19 screening and enter through public entrances. If hosting a group of visitors, it is helpful to assign a representative to meet the guests at the point of entry to escort them to their destination.
Social Distancing
All meetings and gatherings must adhere to a 6' social distancing requirement, and as a result our meeting and conference rooms continue to have capacity limitations. There is a limited exception to this rule: In the academic environment where events/meetings/gatherings predominately involve our students (who are required to be vaccinated), 6' social distancing should be maintained wherever possible, however those capacity limits may be relaxed when it is not possible to maintain strict 6' distancing in the learning environment.
Eating and Drinking
Food is not permitted with gatherings/meetings/events held inside. However, students, faculty and staff may bring in a personal beverage and unmask briefly while consuming it. To remain consistent with the UConn Health Universal Masking Protocol, unmasking periods for consuming beverages should be no longer than absolutely necessary. Individuals may eat together outside if 6' social distancing is maintained. Source of food (purchased from Sodexo or from outside) is not considered.
Events
Apart from parameters outlined in the Common Space Use Policy, UConn Health does not have a listing of the types of events presently allowed or not allowed in our facilities; however, our current rules described above regarding social distancing, masking, and eating/drinking inside rooms may limit the types of events that are practicable to hold in our facilities at this time. UConn Health meeting rooms, auditoriums, and other spaces are all open for request to book, but they may still have capacity limits depending upon the event and the population using the space. The Campus Planning, Design and Construction department and the Parking, Transportation and Event Services/Room Scheduling department can help provide room capacity limits, if needed.
Events Involving Outside Individuals: Events involving outside participants continue to be evaluated on a case-by-case basis. Those arriving from out-of-state or from other countries may still be subject to quarantine and/or testing requirements. See more information about hosting outside learners, faculty and related visitors. Please contact roomscheduling@uchc.edu to evaluate gatherings and events involving outside individuals.
Hygiene
Remember that frequent handwashing and hand sanitation can help prevent infection and spread of the disease.
COVID-19 Call Center
Please call the UConn Health COVID-19 Call Center immediately at 860-679-3199 if you experience any symptoms associated with COVID-19 or if you come into contact with someone who has tested positive for COVID-19.
---
Update in Universal Requirements for Personal Protective Equipment Use
In recent weeks, SARS-CoV-2 transmission in the community and statewide has been at Moderate to High level. Moving into the fall months, we are monitoring closely for any changes in community level virus transmission in our region. We are providing an update and clarification of PPE guidelines for patient care and patient-facing clinical research at UConn Health. Our institutional Universal Masking Protocol remains unchanged.
Full COVID-19 PPE (gown, gloves, eye protection (face shield or protective goggles) and a respirator (N95 or PAPR)) is required in the following situations:
Providing any care to patients with suspected or confirmed COVID-19 infection.
Providing care to patients who are being tested for COVID-19 during admission while results are pending.
Any aerosol generating procedure.
All Emergency Department care (gowns as needed based on anticipated splash/spray risk).
Eye protection, in addition to a mask, is strongly recommended when providing care to any patient who is not wearing a mask due to their medical condition or care in any inpatient and outpatient care areas.
Eye protection is encouraged, though not required, when providing care to patients who are masked during the entirety of their clinical encounter.
Staff who have a pending or approved COVID-19 vaccine exemption, deferral, or are required to test weekly are required to wear eye protection and a mask during all patient care activities.
Our Logistics Management team has deployed eye protection to the clinical areas. If additional PPE is needed please contact your manager to work with our Logistics team to request additional PPE.
Our Clinical Leadership and Infection Prevention teams will continue to monitor community-level SARS-CoV-2 transmission closely and will issue further PPE updates, as needed.
Should conditions change that warrant further changes in institutional PPE requirements, a subsequent update will be issued.
As a reminder, the universal mask protocol remains in place.
Questions or Concerns About Universal Masking Protocols?
Contact Infection Prevention/Epidemiology through the page operator.
5/20/2021: UConn Health COVID-19 Protocols Remain in Effect Until Further Notice
At UConn Health, our top priority is safeguarding the health and well-being of our patients, colleagues, and community. We continue to closely monitor COVID-19 developments and all state and federal guidance to determine whether any updates to our protocols are warranted.
We would like to clarify that the recent guidance issued by the CDC and State of Connecticut regarding masking and social distancing for fully vaccinated people does not apply to health care settings. This means that face masks and physical distancing are still required for everyone inside UConn Health facilities, regardless of vaccination status.
Please check back regularly for updates as conditions evolve. In the meantime, with the exception of the information outlined below, the existing COVID-19 Safety Precautions remain in effect. Thank you for helping to maintain a safe and healthy environment by continuing to follow these guidelines.
Masking
Regardless of vaccination status, all persons entering UConn Health facilities must wear an appropriate face mask, as described in the Universal Masking Protocol.
Patients and visitors are permitted to wear their own well-fitting cloth mask, disposable mask, or respirator upon arrival and throughout their visit to UConn Health. This excludes gaiters, bandanas, and masks with exhalation valves.
Colleagues, including employees, learners and volunteers, must continue to wear UConn Health-issued face masks at all times, except when working alone in segregated spaces such as a private office or cubicle where there is a 6-foot separation from others. Face masks must be worn whenever a patient or visitor is present.
Face masks may be removed while actively engaged in eating or drinking, provided a 6-foot distance from others is maintained.
The use of eye protection will continue to be required during patient encounters.
Indoor Spaces
For the continued safety of our patients, visitation restrictions remain in effect.
Patients, visitors and guests are permitted to access cafeterias, lobbies, rest rooms, retail shops and other common areas, provided proper safety precautions are followed.
Seating in waiting rooms and common areas has been configured to allow for physical distancing and should not be rearranged.
Visitor waiting areas and access to clinical spaces may vary by location due to physical space allowance.
Normal traffic patterns will resume in hallways and other indoor spaces where one-way traffic flow was temporarily put in place.
At dining areas, adherence to 6-foot distancing will be maintained. Unmasked exposure to others while eating/drinking should be limited to less than 15 minutes.
Outdoor Settings
Continuous wearing of masks is not required in outdoor spaces where a 6-foot distance from others can be maintained.
Masks are required when entering or exiting UConn Health facilities, when appropriate distance from other people cannot be maintained, or in areas where patient or visitor presence is likely.
Garage and outdoor parking, drop-offs, shuttle and valet service are available for patients and visitors.
All learners, faculty and employees are reminded to resume parking in their designated parking areas.
Gatherings and Events
UConn Health faculty, staff and learners are allowed to participate in gatherings, with continued adherence to safety precautions, including masking and social distancing.
Event organizers must limit participants to a number that allows for appropriate social distancing in the event space and are responsible for adherence to all safety measures.
University-sponsored gatherings that involve outside participants and groups will continue to be evaluated on a case-by-case basis.
Teleconferencing technologies should be utilized as much as possible for meetings with external individuals such as interviews, demonstrations and large group discussions.
Consumption of food or drink at gatherings remains prohibited at this time.
Thank you for your cooperation and understanding as we work together to keep our patients, colleagues and community safe.
1/19/2021 (Effective 1/22/2021): Universal Masking Protocol Update
UConn Health has had a Universal Mask Protocol in place since April 3, 2020. This protocol requires everyone in UConn Health facilities to wear masks at all times while in any public space or any area where they may be within 6 feet of someone else, absent a medical contraindication. On September 30, 2020 the Universal Mask Protocol was updated based on emerging safety evidence to exclude gaiters, bandanas and masks containing exhalation valves* from face-coverings. At that time, cloth masks continued to be permitted in limited circumstances for non-clinical settings.
As community transmissions of COVID-19 continue to rise, causing increasing contacts among our workforce, we are again updating the Universal Mask Protocol. Effective January 22, 2021, all persons will be required to wear procedure masks issued by UConn Health while on the UConn Health campus. This includes clinical, academic, research, institutional support, administrative, facilities, dining, and other units in all UConn Health locations. UConn Health will make procedure masks available at entry points to employees. Cloth masks may only be worn if they are covered by a surgical or procedure mask. We believe this change in our policy is necessary in order to provide universally protective masking for all of our staff, regardless of their work setting.
As a reminder, masks must be worn correctly while on campus, completely covering the nose and mouth.
In situations in which masks are removed (i.e., eating), individuals must maintain greater than 6 feet of distance from others in order to reduce the potential for infection transmission.
We appreciate everyone taking this next step to keep our community and workplaces safe.
*Note: N-95s with exhalation valves are approved in certain clinical settings as long as they are issued by UConn and the employee wears an approved procedure mask over the N-95. For questions on this matter, please consult UConn Environmental Safety​.
Frequently Asked Questions
Who is required to wear procedure masks in UConn Health facilities? Does this new policy apply to patients and visitors?
All employees, contractors, patients, learners, visitors and others are required to wear procedure masks issued by UConn Health while in UConn Health facilities. If your department requires you to wear specific or additional personal protective equipment as part of your work providing care to patients, you must follow those department-specific protocols. Otherwise, everyone must wear a UConn Health-issued procedure mask while in any UConn Health location. This includes those in academic offices, research spaces, cafeterias, administrative offices and other UConn Health locations.
Can I purchase my own procedure masks to wear at work, or must I only use a procedure mask issued by UConn Health? What if I already have my own reusable/disposable KN95 mask?
Only UConn Health-issued procedure masks are acceptable. Because there are so many masks available for purchase and because the quality and level of protection of these masks vary greatly (including for KN95 masks that may be purchased), UConn Health cannot attest to the quality/protection of masks that are purchased outside the institution, regardless of their claimed material. By only allowing UConn Health issued procedure masks, we can guarantee a uniform standard of protection across the institution, which will better shield our employees and others from infection and will improve our management of employee exposures. UConn Health-issued procedure masks may be worn over cloth, KN95 or other masks if desired.
How will the masks be issued?
Mask dispensers are located at most entrances to UConn Health facilities or will be made available through your department management. Please only take a mask if you do not already have one. Procedure masks are securely stored in each clinical setting, and managers and departments may also order masks by emailing ppe@uchc.edu.
How often should procedure masks be replaced?
Procedure masks may be worn for as long as possible, as long as they are not visibly soiled, saturated or damaged.  In the event that the mask becomes visibly soiled, saturated or damaged, a new mask must be obtained.  All personnel should make every effort to help preserve the supply of PPE and reduce the need for replacement masks whenever possible. Infection Control guidelines should be followed on the use, re-use and storage of procedure masks.
Do we need to wear procedure masks if we are going to be further than 6 feet from others while in our offices or elsewhere in UConn Health facilities?
Employees work in a range of environments and have different office, cubicle and workstation configurations. Not all work settings have the same airflow or physical desk set up. As a general rule, wearing procedure masks is encouraged at all times regardless of office or lab setting. If you work in an area where the person at a neighboring desk or cubicle is less than 6 feet away, wear a mask at all times. If your workspace is in a confined, shared room with other colleagues, wear a mask at all times (even if your desks/cubicles are greater than 6 feet apart). If you are unsure if you share air space, please wear a mask. Those who are further than 6 feet from others in private offices with doors may remove their masks while alone in their office, but must don a mask when another person enters the space.
Are there any other times when we may remove our masks?
Masks may be removed temporarily when eating, but individuals must maintain greater than 6 feet of distance from others when doing so.
Do we need to wear a mask on campus while walking outside or to my car?
Yes, to keep yourself and colleagues safe, and to set an example for the public and to reduce any confusion associated with the universal masking policy, masks must be worn as you exit your vehicle and kept on as you enter UConn Health facilities. Personal masks, including cloth masks, may be worn while on route to pick up a procedural mask at the facility's entrance, if necessary. At the end of shift, personnel are asked to maintain their use of a mask until they get to their vehicle.
Based on recent CDC research about the benefits of double masking, do we now need to wear two masks at work?

A recent study from the CDC demonstrated that improving the facemask fit can increase its effectiveness in blocking respiratory droplets emitted from the wearer and protecting the wearer from exposure to respiratory droplets. The procedure masks issued to patients and employees at UConn Health contain multiple layers of material with a high level of filtration, and wearing multiple disposable masks is not recommended. We do recommend measures to ensure that masks fits securely over your face without gaps on the sides, which may include:
Tying knots on the mask's ear loops and tucking in and flattening the extra material against your face.
Using a mask fitter or brace to cinch the mask​ closer to your face.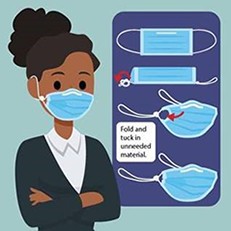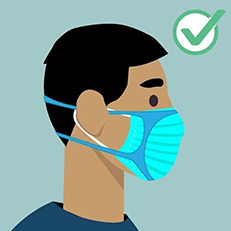 10/1/2020: Universal Mask Protocol (Effective 9/30/2020)
On April 3, 2020, UConn Health instituted a Universal Mask Protocol that required all employees, patients, learners, visitors and others in UConn Health facilities to wear masks at all times while in any public space or an area of the facility where they may be within 6 feet of another individual.
This communication serves as an update to the UConn Health Universal Mask Protocol. All employees, patients, learners, visitors and others will continue to be required to wear masks while in UConn Health facilities, in the absence of a medical contraindication. Based on published science and guidance from public health authorities, including the U.S. Centers for Disease Control and Prevention, gaiters, bandanas and masks containing exhalation valves will not be considered acceptable masks in satisfying our universal masking requirement. Homemade masks may be worn by employees, patients, learners, visitors and others in non-clinical areas; however, for employees and learners in the clinical areas, homemade masks shall only be worn if covered with a surgical or procedure mask. Additionally, UConn Health-issued N95 respirators with exhalation valves have been approved for use in specific clinical areas for non-sterile procedures only; such respirators shall not be used in any other area or for any other purpose apart from those approved, and all employees and learners must wear a procedure mask over the N95 respirator with exhalation valve issued when wearing such respirators.
Any individual who seeks to enter the facility without an acceptable mask will be provided one prior to entry which will be required to be worn while at UConn Health.

As a reminder, masks must be worn correctly while on campus, covering the nose and mouth. If a mask cannot satisfactorily cover the nose and mouth the individual will be provided a hospital-issued mask which will be required to be worn while in UConn Health facilities.
In situations in which masks are removed (i.e., eating), individuals must maintain 6 feet of distance from others in order to reduce the potential for infection transmission.
Employees or learners with questions or concerns about compliance with UConn Health's Universal Mask Protocol should contact Infection Prevention/Epidemiology through the page operator.
9/10/2020: Reprocessing of N95 Masks
The service to reprocess our used N95 masks continues, and has been a successful endeavor. The reprocessing company we currently use was an awarded an extension from the federal government that allows their services to be utilized until the end of the year under our current contract. Their processing site in Connecticut is closing in September, however, we will be able to continue service to regional sites in New York and Massachusetts.
Please reprocess your N95 mask. If the mask is soiled at all it will be discarded, either through our sorting process at UConn Health, or at Battelle.
The following information should be written clearly on each mask submitted for reprocessing:
Name: first initial, last name (ex: K. Falotico)
Unit or patient care area where the mask can be returned to after reprocessing (ex: ICU)
Our Battelle site identifier: EYY
If you have not set up a mask collection bin or collection area please call Facilities. For outpatient areas, to arrange for pickup of used N95 masks please contact Logistics. For inpatient areas, to arrange for pickup of used N95 masks please contact Facilities.
5/15/2020: Masking Reminder
Don't Forget Your Masks! In addition to UConn Health's policy requiring universal masking in our facilities, Governor Lamont issued an Executive Order on April 20 requiring face coverings or masks in all public spaces. As an important reminder, please be sure to wear a mask or face covering at all times during your daily routine, including when you enter and leave our facilities, and when you are passing through corridors and visiting community areas. Thank you!
4/3/2020: Universal Masking for All UConn Health Employees
Please note the following changes to the Masking Protocol.
Expanded Masking Protocol (Effective 4/3/20)
We have decided to institute a universal masking policy that includes all employees on our campus, i.e., masking will no longer be limited to clinical care employees and staff who support such employees in the clinical areas. Effective 4/3/20 it is expected that all employees on our campus will wear masks while at work.
Provision of Masks
Starting on 4/3/20, managers in the non-clinical areas will issue surgical and procedure masks to employees (managers should contact Kim Varasconi, 860-679-3759, for issuance). Please note however that because of the short supply of surgical and procedure masks and the need to preserve as many masks as possible for clinical employees and those who support them in the clinical areas, we anticipate that unless we receive an adequate replenishment of supplies, we may run short of surgical masks for non-clinical/clinical support employees. As such, only one mask at a time will be issued per person and the employee must safeguard it and use until it is no longer appropriate for use. In addition, wearing a home-made mask as a substitute is allowed in non-clinical areas. In the clinical areas, homemade masks must be worn along with a surgical or procedure mask. We will continue to explore sources for additional surgical and procedure masks. Finally, please be patient with logistics as it may take some time to issue masks to all areas.
Thank you as always for all you are doing.
Regards,
Andrew Agwunobi, M.D., M.B.A.
Chief Executive Officer, UConn Health
Executive Vice President for Health Affairs
3/30/2020: Updated Protocols – Mandatory Masking for Patients and Clinical Employees
Dear Colleagues,
I am writing to inform you that we currently have 15 COVID-19 positive patients in our hospital representing a significant increase from 3 patients a week ago. We also have 8 "rule/out" COVID-19 patients. I want to thank the amazing employees and providers who are taking care of these patients during this difficult time.
UConn Health strictly follows and in some cases goes beyond the precautions recommended by the CDC to protect our staff, visitors, patients, and learners. However two of the 15 patients were admitted to our hospital for unrelated diagnoses before it became apparent they were also suffering from COVID-19. As such a number of our employees interacted with the patients before the patients were masked and placed in isolation. Fortunately, due to our recent universal masking policy for healthcare workers, most employees were wearing masks when they encountered the patients. Given specific issues pertaining to the recent exposures we are customizing the approach to quarantine for these employees so as to err on the side of caution. However today we are also announcing two new protocols below to ensure to the extent possible that should we have similar exposures in future they would fall into the "Low Risk" category not requiring quarantine as per CDC guidelines.
New Masking Protocols (Effective 3/31/20)
Patient Masking: All UConn Health inpatients and outpatients to the extent practical will now be required to wear a surgical or procedure mask.
Employee Masking Now Non-Voluntary: UConn Health employees involved in patient care or supporting those involved in patient care are expected to wear a surgical or procedure mask at all times in the patient care areas.
NB: Home-Made Masks: Although UConn Health does not endorse the effectiveness of, nor promote the use of home-made masks such masks are now allowable as long as a standard procedure mask or surgical mask is worn at the same time.
For information on the protocol for low-medium and high risk exposures please see the attached "Guidelines for the Asymptomatic Healthcare Worker with Exposure to an Individual with COVID-19 with Prolonged Contact in the Healthcare or Community Setting" compiled by Dr. David Banach, UConn Health's Hospital Epidemiologist and Head of Infection Prevention.
Again I would personally like to thank all the providers and staff who are working on the frontlines of this pandemic. We will continually evolve our guidelines to keep everyone as safe as possible while delivering much needed care. If you have questions or want to report a case of suspected employee exposure please call the COVID-19 Call Center at 860-679-3199.
We will get through this together.
Best Regards,
Andrew Agwunobi, M.D., M.B.A.
Chief Executive Officer, UConn Health
Executive Vice President for Health Affairs
3/27/2020: Universal Masking for Clinical Areas
As a follow up to the message below, please understand that our Logistics Department is stocking all clinical areas with an increased amount of masks to satisfy the needs associated with this new broadened surgical/procedure mask protocol. We expect all areas to be adequately stocked by end of day tomorrow. In the meantime please continue to use handwashing and other infection control safeguards as usual. I would also like to clarify that the 5-7 days noted in the letter is only a guideline aimed at conserving the supply of masks; if masks are soiled or damaged before then they will of course be replaced. Thank you for your patience.
Regards,
Andy
3/26/2020
The safety of our providers and employees is always our top priority. As you may be aware on March 25th Partners Healthcare in Boston implemented a new surgical mask protocol based on the community transmission of Covid-19. Specifically they announced that their employees would begin to wear face masks (Surgical or procedural) at all times. As such, over the last two days, UConn Health's leadership team has been considering whether to implement a similar practice. Our main considerations have been whether we have enough surgical and procedure masks to implement such a policy and which categories of healthcare employees would it pertain to in order to ensure a combination of employee safety and adequacy of supplies.
I am therefore announcing that after much consideration and in an abundance of caution we have decided that we will also provide surgical or procedure masks to our employees in clinical areas to wear at all times. This would include doctors, other providers, nurses, front desk workers, Clinical Office Assistants, Medical Assistants, housekeepers, maintenance workers, and other employees who come in contact with patients or who enter clinical areas to support healthcare workers. Please note this new expanded masking practice pertains to the provision of surgical masks and procedure masks not to N-95 respirator masks. N-95 masks are reserved for interactions with confirmed or suspected Covid-19 positive patients and other specified clinical interactions.
To conserve surgical and procedure masks, each mask should be worn for 5-7 days or as long as they remain intact and are not visibly soiled. Please mark your mask with your name and store the mask in an envelope or paper bag in a secure place at work when you leave for home. Employees should request a mask from their supervisor for replacement if the existing mask becomes soiled or damaged.
Thank you for your wonderful work and we will continually review this policy based on the utilization of masks as well as the evolution of national guidelines.
Regards,
Andrew Agwunobi, M.D., M.B.A.
Chief Executive Officer, UConn Health
Executive Vice President for Health Affairs