Addressing Vaccine Equity in Our Community

Our Mission
At UConn Health, we are dedicated to bringing the COVID-19 vaccine to as many people as possible, including those who may have difficulty accessing the vaccine. We are committed to eliminating barriers, whether it be problems with scheduling a vaccine appointment or getting to our vaccine sites. Our mission is to assist any person or group looking to receive COVID-19 vaccines. We can help schedule appointments, partner with organizations, employers, and other groups to arrange vaccine clinics, and deploy a mobile vaccine team to bring the vaccine to off-site locations.
Our Team
UConn Health has established a Vaccine Equity Task Force to address the disparities we have observed across the state. This task force consists of senior leaders, faculty, providers, and researchers from across UConn Health. The group stays on top of state vaccination data and information, and devises strategies to increase education relating to the vaccine and to address barriers people may be facing in getting the vaccine.
Our Mobile Unit
UConn Health has a mobile vaccine team that can be dispatched to provide vaccine clinics to those in need.
We can offer the Pfizer vaccine, available for anyone 12 years and older.
We can offer the Johnson & Johnson/Janssen vaccine, which only requires one dose.
Our clinics can range in size based on your need.
UConn Health is committed to ensuring that underserved areas receive the vaccine and that traveling to vaccine sites is never a barrier.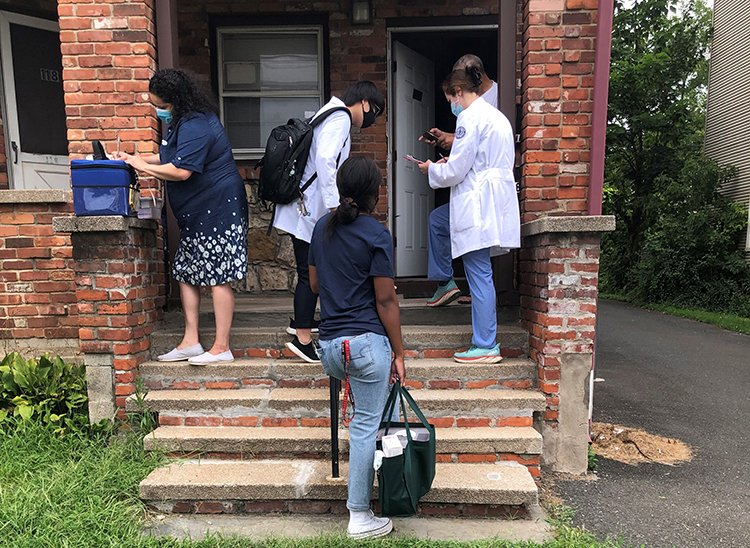 Students Serving Community With Screenings, Vaccinations
A multidisciplinary force including UConn faculty and students came together last weekend in Hartford's Keney Park and North End neighborhoods to offer free health screenings, COVID-19 information, and door-to-door vaccinations. Read more.
In the News
Worried About the COVID-19 Vaccine?
As health care providers, we have heard all the information and misinformation about the COVID-19 vaccine. Rest assured that the vaccine is very safe, and any of the risks are minimal compared to getting the COVID-19 virus.
Our providers, staff, patients, students, and faculty share their stories; how they lost loved ones, their own fears, and why they chose to get the COVID-19 vaccine.
Contact Us
Do you or your organization need to get vaccinated? Let us know, and we will contact you.
We can work with city leaders, health officials, housing authorities, business owners, public and private schools, community and civic organizations, and others.
Email us at mobilevaccine@uchc.edu to see if we can partner. Please include:
Your name and title
Organization
Phone number
Size of the clinic (approximately how many people you would like to vaccinate)
We will contact you to discuss setting up a clinic for you.
If your organization does not have enough volume for our mobile clinic, individuals can still book appointments in our Farmington and Storrs locations.
To make your appointment, call our COVID Vaccine Scheduling line at 860-679-5589.
Our Partners
Department of Public Health
FEMA
Office of the Governor
Eastern Highlands Health District
City of East Hartford
City of Hartford
City of Norwich
City of Stamford
Farmington Valley Health District (10 Towns)
West Hartford/Bloomfield Health District
Spottswood A.M.E. Zion Church
Town of Killingly
Town of Tolland
Town of West Hartford
Town of Windham