The Connecticut Convergence Institute is proud to announce that two Pre-K Scholars have officially received K awards! Eliane Dutra of the 2018 cohort and Alicia Dugan of the 2014 cohort both received NIH Research Career Development Awards (K awards).
The Pre-K Scholar Career Development Award Program is a 2-year interactive program designed to equip junior faculty with the knowledge and competencies to effectively apply for an NIH Research Career Development Awards (K award) as well as become leaders in clinical and translational science. The long-term goal is to increase the pipeline of researchers applying for a K award and a culture that supports this goal.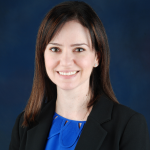 Eliane Dutra, D.D.S., M.S.D., Ph.D.
Eliane received her D.D.S. from the Federal University of Santa Maria and her M.S.D. in Orthodontics from the Pontifical Catholic University of Parana, in Brazil. She then moved to the United States and obtained her Ph.D. and an Orthodontic Certificate from the Uconn Health. She is currently a full-time Assistant Professor in the Division of Orthodontics and the Program Director of the Orthodontic Predoctoral Curriculum. Eliane continues to devote her career to undergraduate and graduate education, as well as to research and patient care.
KO1 Project Abstract
Temporomandibular joint osteoarthritis (TMJ-OA) is a degenerative joint disease characterized by cartilage loss and sclerosis of the subchondral bone, causing pain and disability. There is an unmet clinical need to develop therapeutic interventions that are anabolic for the TMJ which could prevent or reverse degeneration of the TMJ cartilage. We have identified that the FDA approved treatment, intermittent parathyroid hormone (I-PTH), promotes anabolic responses in the osteochondral tissues of the TMJ. Our goal is to gain insights into the cellular and molecular mechanisms by which these effects are exerted. Our central hypothesis is that FGFR3 is the master regulator of the anabolic response observed in the TMJ due to I-PTH administration. This hypothesis will be tested by following specific aims: Specific Aim 1A: To determine the role of FGFR3 signaling in the anabolic effects of I-PTH administration in the MCC of the TMJ. We will delete FGFR3 in aSMA expressing cells in the mandibular condylar cartilage (MCC) and determine the effects of FGFR3 loss-of-function with and without I-PTH. We will also inject a soluble FGFR3 to rescue the FGFR3 conditional deleted to confirm that this signaling is the master regulator of the effects of I-PTH. Aim 1B: To define the molecular mechanism by which FGFR3 regulates the anabolic effects of I-PTH in vitro. FGFR3 in the primary chondrocytes from the MCC of triple collagen transgenic reporter mice will be inhibited using RNA silencing and specific FGFR3 inhibitor. Specific Aim 2: Evaluate the role Intermittent PTH plays in a model of cartilage injury and repair. The MCC of triple transgenic reporter mice will be injured and animals will receive either injected with I-PTH or saline to understand the role of I-PTH in early and delayed healing of the MCC.
Future Research Direction
To develop a deeper collaboration with multidisciplinary team in the UCONN School of Dental Medicine and School of Medicine, who are studying TMDs in generalized musculoskeletal disorder patients. To translate the basic research findings and strategies into clinical applications that can benefit patients with painful and disabling degenerative TMD disorders.
"The Pre-K Scholar Career Development Award Program has helped me to succeed in so many ways. From protecting my research time to guiding me in every single step of my KO1 application, the commitment of the program directors was invaluable in this whole challenging process. The interaction with other pre-K scholars has also helped to ease the struggles of grant application."- Eliane Dutra
---
Alicia Dugan, Ph.D.
Alicia G. Dugan, PhD, is an industrial-organizational psychologist and assistant professor in the Division of Occupational and Environmental Medicine at the University of Connecticut's School of Medicine.  Dr. Dugan's research focuses on worker well-being and work-life interface and the contextual factors that affect these experiences (i.e., self-care behavior, social support, resource availability). She uses community-based participatory research to develop interventions that improve worker well-being, and conducts dissemination and implementation research to understand factors that determine the successful translation of evidence-based health interventions into real world settings.
KO1 Project Abstract
The number of working-aged cancer survivors is 3.8 million and growing. Survivors are at risk for poor health and work outcomes, and are vulnerable to the competing demands of work and disease management (i.e., work-health conflict). Post-treatment job retention and other work-related outcomes have been only sparingly studied, falling between the fields of occupational medicine and cancer care. The available data suggest that about 40% of survivors do not successfully return to work, and that factors intrinsic to the workplace may explain this. The types and extent of formal and informal organizational support provided to cancer survivors at work are largely unknown. Moreover, existing return-to-work interventions are mainly designed for individuals (e.g., survivors) rather than administered at an organizational level. Our primary study goal is to determine how formal and informal organizational support at work influence health and work outcomes for survivors. A secondary goal is to assess whether and how cancer clinicians address return-to-work issues with patients. This study will investigate factors that promote or inhibit a successful return to work for breast and colorectal cancer survivors and may provide novel evidence that organizational support is an effective mechanism for enabling survivors to better manage their jobs and their health as they re-enter the workplace after primary treatment. It will translate disease management precepts from the Healthy Workplace Participatory Program, an evidence-based tool developed by investigators at our Center for the Promotion of Health in the New England Workplace (CPH-NEW). For Aim 1, we will investigate survivors' return-to-work experiences of formal and informal organizational support, quality of life, cancer management behavior, and work-health conflict. Survey data will serve as a needs assessment for survivors and allow hypothesis testing. For Aim 2, we will convene a design team of survivors, clinicians, and managers to generate interventions using the Healthy Workplace Participatory Program step-by-step protocol which includes root causes analysis of RTW challenges, brainstorming and vetting of solutions, and plans for disseminating study outputs. For Aim 3, we will disseminate study outputs including an assessment tool and critical study findings.
Future Research Direction
Dr. Dugan's plan is to initiate a new career trajectory that addresses the problems of workers with chronic disease, and her initial focus will be on patients returning to work after cancer treatment. She will redirect herself to a new line of independent research on the secondary prevention of work disability, building upon her existing strengths in worker health and well-being, self-care, and intervention design.
"I truly appreciate the support that I received from the CICATS Pre-K Scholar Career Development Award Program. It gave me the protected time and know-how to write a compelling grant application – one that I was proud to submit."- Alicia Dugan
Learn more about the Pre-K Scholar Award Program here.
---