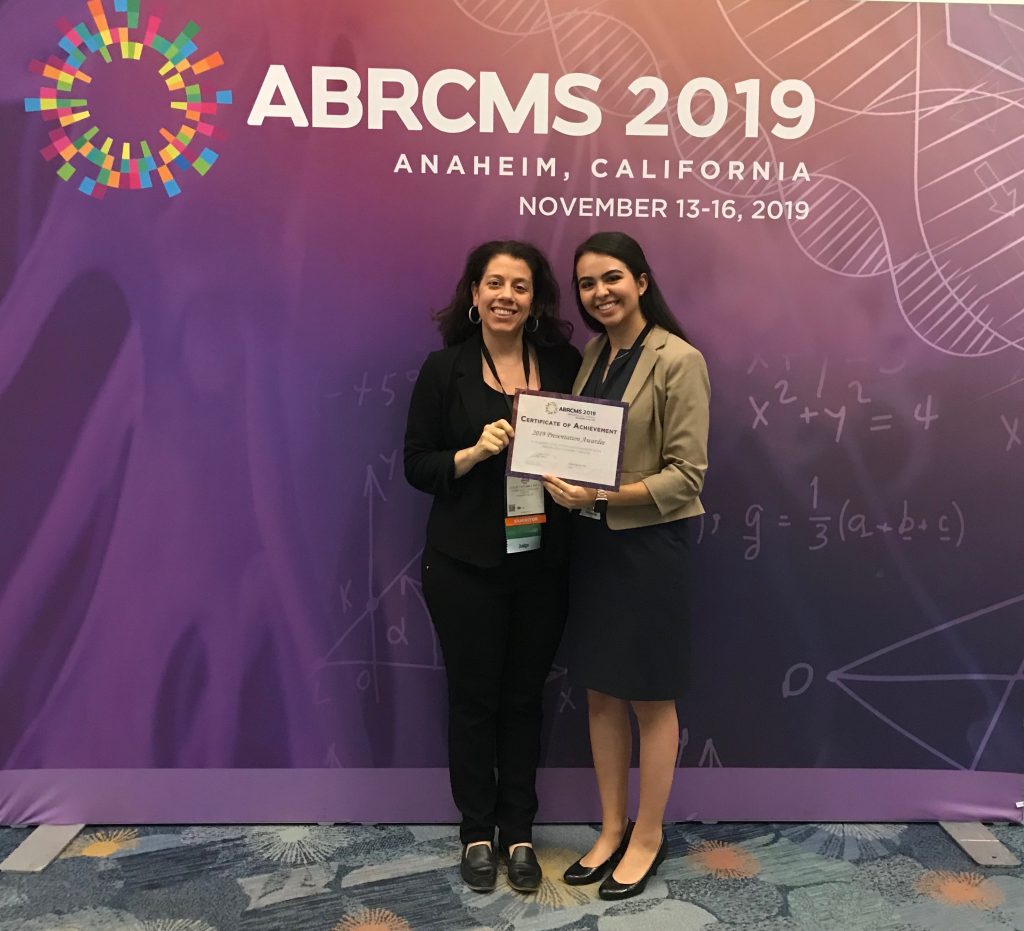 During the The Annual Biomedical Research Conference for Minority Students in Anaheim, California, two graduates of the Connecticut Convergence Institute's BUILD program presented posters from their summer research projects and won awards for their category! Diana Moreno of the 2019 BUILD cohort won for research she had done this past summer at UConn and Aiyana Ponce of the 2017 BUILD cohort won for the research she conducted this past summer at Baylor.
ABRCMS is the largest community of underrepresented minorities in science, technology, engineering and mathematics. Students attend this conference to present their research, enhance professional development skills, explore graduate schools, and network. Research faculty and program directors play an essential role in mentoring students and learning strategies for facilitating student success.
During the four-day conference, over 2,500 students from over 350 colleges and universities participate in poster and oral presentations in twelve STEM disciplines. All undergraduate and postbaccalaureate student presentations are judged and those receiving the highest scores in each scientific discipline are given an award during the closing banquet.
Cancer Biology Category:
"Prostate-specific membrane antigen dependent health disparities in prostate cancer"
Diana Moreno1, Dedrian Barrett2, 3, Leslie Caromile Ph.D.4
1BUILDing Scholars, University of Texas at El Paso, El Paso, TX.
2 Department of Biology, Oakwood University, Huntsville, AL.
3 Health Career Opportunity Programs, UCONN Health, Farmington, CT.
4Department of Cell Biology, Center of Vascular Biology, UCONN Health,
Farmington, CT.
Microbiology Category:
"Analyzing blood cell samples for Mycobacterium Avium Paratuberculosis, a possible infectious cause of Crohn's Disease"
Aiyana Ponce, The University of Texas at El Paso, El Paso, TX
Adrienne McNees, Baylor College of Medicine, Houston, TX
David Graham, Michael E. DeBakey Veterans Affairs Medical Center, Houston, TX
The Connecticut Convergence Institute congratulates them both on their continued success.
---