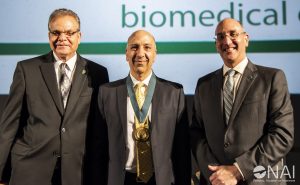 On April 11, 2019, Dr. Bahram Javidi, UConn's own Board of Trustees Distinguished Professor in Electrical and Computer Engineering was inducted into the prestigious National Academy of Inventors (NAI) Fellows program.
Achieving NAI Fellow status is considered the highest professional distinction awarded to academic inventors. Those elected undergo a rigorous nomination and selection process, and have demonstrated a significant impact in a variety of fields including biomedical engineering, laser photonics and computer sciences.
Javidi has been recognized for his pioneering work in the field with countless awards and honors, including The Quantum Electronics and Optics Prize for Applied Aspects, the George Washington University Distinguished Alumni Scholar Award, the Humboldt Prize for outstanding international scientists and the Technology Achievement Award. In early 2018, he was named winner of the prestigious Joseph Fraunhofer Award / Robert M. Burley Prize. He currently holds 30 patents and has over 1,000 publications.
Amongst Javidi are four other UConn NAI fellows, Dr. Cato Laurencin, Dr. Lakshmi S. Nair, Dr. Pramod Srivastava and Dr. Steve Suib.
---