Dr. Cato Laurencin has just been elected as a member of the renowned American Academy of Arts and Sciences. Dr. Laurencin, who is being honored for his work as a pioneer in the field of regenerative engineering, is the first UConn Health faculty member to be elected.
Dr. Laurencin is a surgeon in orthopaedic surgery, as well as a professor of chemical and biomolecular engineering, professor of materials science and engineering, and professor of biomedical engineering. His innovative research regarding the growth and regeneration of bone, ligaments and other musculoskeletal tissues has spanned across 25 years.
"I am very honored and humbled to be elected to the American Academy of Arts and Sciences. I thank my mentors especially Professor Robert Langer, and my students who continually inspire me," he said.  Read the full article about Dr. Laurencin's election to the AAAS in UConn Today.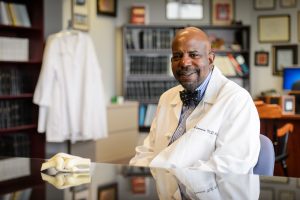 ---