The CT Convergence Center for Translation in Regenerative Engineering is pleased to announce that a member of our Institute, Leila Daneshmandi (a Ph.D Student from Biomedical Engineering) has earned a 1st place award in the 5th Annual UConn School of Engineering Poster Competition.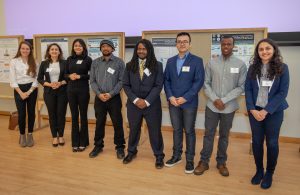 The competition, which was open to graduate students from all engineering departments, included two rounds of judging.
In the first round, participants presented to faculty members within their own department and were judged among peers in that department. Leila won first place for the Biomedical Engineering Department based on feedback from judges Dr. Ki Chon (department head) and Dr. Kristin Morgan. For the next round, advancing participants presented to a team of industrial professionals with broad technology entrepreneurship experience.
Leila's project "PLGA-Graphene Oxide Matrices for Bone Regenerative Engineering" won the first place prize of $1,000 in the final round. Leila Daneshmandi is pictured below with her award presented by Kevin Arpin, Forensic Specialist from Travelers Institute, Kathy Rocha, Managing Director of UConn's Entrepreneurship and Innovation Consortium, and Kevin Bouley, President and CEO of Nerac.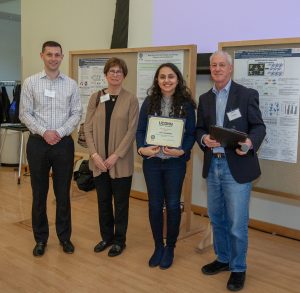 Congratulations to Leila Daneshmandi!
---