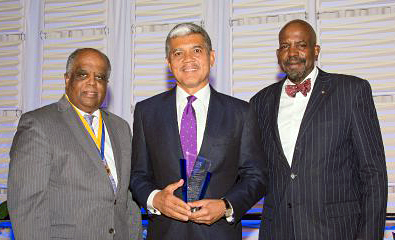 I am pleased to announce M. Roy Wilson, president of Wayne State University, is the recipient of the 2015 Cato T. Laurencin, M.D., Ph.D., Lifetime Research Award. Dr. Wilson received his M.D. degree from Harvard Medical School and his Master of Science in epidemiology at the UCLA School of Public Health. Dr. Wilson is an accomplished researcher focused on glaucoma and blindness in West Africa, the Caribbean, and urban communities in the United States. He is an elected member of the National Academy of Medicine, the American Ophthalmological Society, and the Glaucoma Research Society.
Dr. Wilson received the award during the opening ceremonies of the National Medical Association's 113th Annual Convention and Scientific Assembly, held at Detroit's Cobo Center. The Laurencin Lifetime Research Award recognizes an individual who has demonstrated more than 20 years of consistent, long-lasting contributions to benefit African-Americans, reducing health disparities through recognized research and inquiry. Dr. Wilson's extraordinary career has been dedicated to improving the health status of minority populations in his role as a master physician and surgeon.
On behalf of the Board of Directors of the W. Montague Cobb/NMA Health Institute, I thank Dr. Wilson for his many efforts and resulting accomplishments.
---