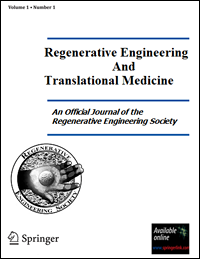 I am very happy to announce the launch of a new journal entitled Regenerative Engineering and Translational Medicine. It will be published quarterly beginning in later 2015.
Regenerative Engineering and Translational Medicine is an international journal covering the convergence of tissue engineering, advanced materials science, stem cell research, the physical sciences, and areas of developmental biology. This convergence brings exciting opportunities to translate bench-top research into bedside methods, allowing the possibility of moving beyond maintaining or repairing tissues to regenerating them. The journal also features sections on instructive biomaterials, stimuli-responsive biomaterials, micro- and nano-patterning for regenerative engineering, elastomeric biomaterials, hydrogels for tissue engineering, and rapid prototyping and bioprinting approaches.
We are fortunate to be developing an editorial board of recognized experts in their fields to help with the peer-review process. As editor-in-chief, I want to thank everyone involved for their efforts during the past months in ensuring the journal's successful launch.
---