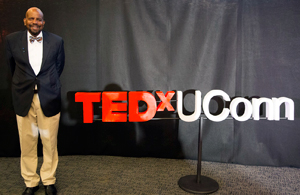 On September 21st, I was excited to stand on the TEDx stage in the University of Connecticut and give a talk on "Regenerative Engineering." My talk highlighted the tremendous work being carried out here at the Institute for Regenerative Engineering. More specifically, I discussed our latest invention — a bioengineered matrix for the regeneration of torn anterior cruciate ligaments of the knee.
TED stands for Technology, Entertainment, Design and is a global set of conferences under the slogan "ideas worth spreading". TEDx is a program of local, self-organized events that bring people together to share a TED-like experience. I was happy to be included in UConn's first TEDx conference.
My talk will be added to TEDxUConn site by the end of October, please visit www.tedxuconn.com.
---