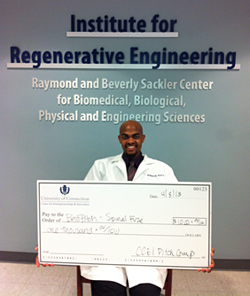 The Connecticut Center for Entrepreneurship and Innovation (CCEI) held its Start-Up Challenge Pitch Competition on April 8 on the Storrs campus. Open to students on all UConn campuses, CCEI awarded a total of $10,000 in prize money to individuals and/or teams across ten categories. Entries ranged from mobile apps for improved access to educational resources to novel material design for improved transportation infrastructure. The organizers challenged students to prepare a 90-second business idea pitch followed by a 2-minute Q&A session.
I am very proud to announce that our pitch for a novel interbody fusion device won "Best Pitch." Nicknamed SpineFuze, this is a biodegradable, natural polymer-based interbody fusion device for spinal disc surgery. The team also plans to submit an additional entry for the upcoming written business-plan competition.
The business pitch was delivered by Matthew Harmon, a current 3rd-year Ph.D. student in the Institute for Regenerative Engineering. Matthew is completing his Ph.D. before returning to medical school to continue his pursuit of a career as a physician scientist in orthopaedics. His current research interests involve novel material design for the treatment of spine-related orthopaedic injuries and pathologies.
---