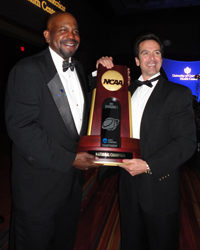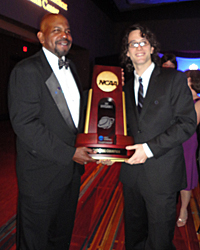 On April 16, more than 800 men and women gathered to celebrate the 50th anniversary of the founding of the UConn Health Center and to honor three remarkable individuals who have played integral roles in the success of the Health Center's first half century: Dr. Marja Hurley, Dr. Ravi Nanda and Coach of the NCAA Men's Championship basketball team, Jim Calhoun.
The tally is still being finalized, but it is clear that the second annual White Coat Gala was one of our most successful fund raising events on record. Funds raised will support faculty and researchers in areas across the entire UConn Health Center.
Though they need no introduction within the UConn Health Center community, it is important to note just a few of the accomplishments of our honorees:
Dr. Marja Hurley is an internationally prominent molecular biologist and endocrinologist with 25 years of service at the UConn Health Center. She directs the Health Center's Health Career Opportunity Programs, which promote diversity and helps address disparities in both health and health care in Connecticut and beyond, and is currently serving as the medical school's interim senior associate dean for education.
Dr. Ravindra Nanda, a renowned leader in orthodontics, joined the Health Center in 1972 and has risen to several leadership roles. He is the UConn Orthodontic Alumni/Ravi Nanda Chair in Orthodontics and head of the Division of Orthodontics and the Department of Craniofacial Sciences.
Hall of Fame Coach Jim Calhoun, who came to UConn 25 years ago, has worked tirelessly to support the cardiology and cancer programs. The Calhoun Cancer Challenge Ride and Walk has raised more than $720,000 for the Carole and Ray Neag Comprehensive Cancer Center. The Mohegan Sun/Jim Calhoun Celebrity Classic Golf Tournament and Charity All-Star Game has raised more than $2 million for the Pat and Jim Calhoun Cardiology Center.
In light of Coach Calhoun's recent winning streak, this year's White Coat Gala was even more festive than expected. We were delighted to host a viewing of the NCAA trophy. It was an honor to hold the trophy – and even more of a delight to pay tribute to Coach Calhoun, Dr. Hurley and Dr. Nanda.
We are deeply grateful to Richard and Jane Lublin, Title Sponsors of the gala, as well as all of our sponsors, our volunteer committee and everyone who supported the event. Thank you!
---