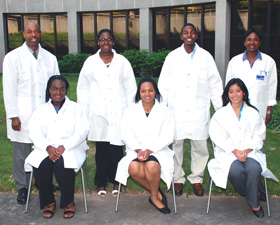 Recently the headline of a story in the Hartford Courant caught my attention. The article titled "Getting Students Interested in Science" described several programs that provide underrepresented high school students opportunities to explore health professions. I was very proud that the article was describing programs provided through the Health Center's Health Career Opportunity Programs, an integral part of the UConn Schools of Medicine and Dental Medicine, and the graduate school.
Programs such as the Aetna Health Professions Partnership Initiative described in the article are a pipeline for disadvantaged or underrepresented students pursuing careers in health professions. Due to the availability of programs through HCOP, some of the students have been the first in their families to have the opportunity to attend college. Dr. Marja Hurley, program director, has helped hundreds of students successfully pursue careers in medicine, dentistry and other health professions. She has been recognized by several organizations for her contributions to the development of educational programs to benefit underrepresented students in American medical and dental education.
I encourage you to read the inspiring story, to learn more about the programs available through Health Career Opportunity Programs, and to tell a high school student about the opportunities available at the UConn Health Center.