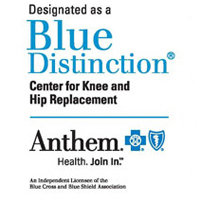 I am proud to announce that the New England Musculoskeletal Institute has been designated as both a Blue Distinction Center® for Spine Surgery and Knee and Hip Replacement by Anthem Blue Cross and Blue Shield in Connecticut. Blue Distinction® is a designation awarded by the Blue Cross and Blue Shield companies to medical facilities that have demonstrated expertise in delivering quality healthcare. The designation is based on rigorous, evidence-based, objective selection criteria established in collaboration with expert physicians' and medical organizations' recommendations. Its goal is to help consumers find quality specialty care on a consistent basis, while enabling and encouraging healthcare professionals to improve the overall quality and delivery of care nationwide.
The designation affirms the high-quality, expertise care that is delivered by the providers at the New England Musculoskeletal Institute every day. It also demonstrates the Health Center's commitment to providing quality care and better overall patient outcomes particularly for knee and hip replacement procedures and spine surgery.
Sincere congratulations. What a team!
---