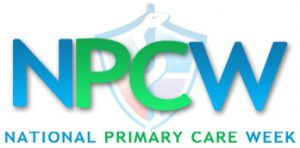 Due to challenges presented by the ongoing pandemic, our typically NPCW weeklong celebration at UConn Health has been modified to an online format only. For our 2020 celebration of primary care, we're proud to announce our Primary Care Virtual Summit--the first event of its kind at our university! For more details, visit the Primary Care Virtual Summit page.
National Primary Care Week (NPCW) is a celebration of the contributions that primary care work makes toward the health of the nation. NPCW aims to introduce health professions students to the importance of community-responsive primary care, encourage their collaboration as members of future primary health care teams, and to work to reduce problems in healthcare access experienced by underserved populations. The national event is a collaborative effort by student volunteers, the Area Health Education Centers (AHEC) the American Medical Student Association (AMSA) and the federal Health Resources and Services Administration (HRSA).
NPCW participants are from the UConn Schools of Medicine, Nursing, Pharmacy, Dental Medicine and Social Work as well as Quinnipiac University Physician Assistant Program. These educational efforts expose future health care providers to the diversity and importance of primary care and the altruism and caring that are part and parcel of the health professions.