Our in-house photography service can provide your or your group with high-quality digital studio portraits or on-location photographs of your team.
Studio portrait sessions are available on the Farmington main campus to clinical and professional staff and to students by request from a department head. The sessions last from 10 to 15 minutes and are taken in front of a white background. New physicians and other providers are photographed wearing a UConn Health white coat.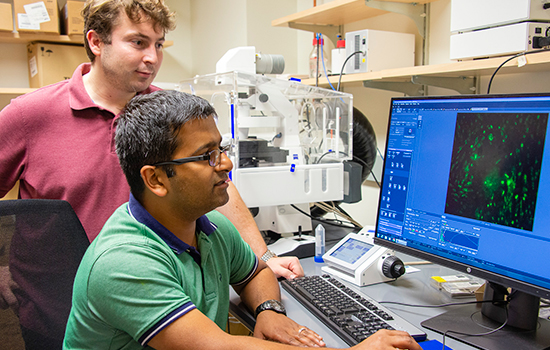 We can photograph you and members of your team in your research laboratory, your classroom, or your clinical environment. We may also be able to provide photography for all or a portion of your event. Environmental and event photographs are typically used for websites, news stories, and by departments for their internal use.
If our team is unable to accommodate your request, we can recommend a freelance photographer.
Tips for Taking Photos on a Cell Phone
Most modern cell phones can be used to take good photos. Here are tips to help you do that.
Has the phone been restarted recently? If not, do it right now. Also check that the software is up to date. This will ensure that the phone is working as well as it can. Also pending software updates can use up valuable storage space.
Consider installing the OneDrive app on your phone and setting the app so that the photos are automatically uploaded. Then you can email or copy the photos from the comfort of your desktop or laptop computer. Be aware that the default setting for the OneDrive app is to only upload photos when you are connected to Wi-Fi.
Be sure that the phone is set to take pictures in the JPEG format.
On an iPhone go to Settings (gear icon) and scroll down and click on Camera. Then click on Formats. Select "Most Compatible." Turn off Apple ProRAW if that is an option. Click "< Camera." Turn off "Prioritize Faster Shooting" and turn on "Lens Correction."
On a Samsung phone, open the camera app and click the gear icon. Turn off "High efficiency pictures."
Before taking photos, check the brightness of your phone's display. Open the web browser and go to nytimes.com or another site with high quality photos. Adjust the brightness of the display so that the photos on the webpage look good. Do this in the lighting environment that you will encounter while taking photos.
While taking photos, avoid using "pinch to zoom." The resultant image quality is reduced. If using a phone with multiple camera lenses, select the appropriate lens by clicking the number. For example, on some iPhones there are choices of .5, 1, and 3 lenses. A Samsung phone has similar options. The best way to take pictures is to "zoom with your feet," meaning move the camera to a position to optimize the photo with the subject filling the frame.
Make it a habit while taking photos to look at the foreground and background separately and then move the subject so that both look pleasant. When you assess the background separately you will notice things that don't belong in your photos.
Most likely your photos will be viewed at a size even smaller than the display on your phone. Make sure that your subject is up close and dominates the image.
In most cases, the built-in flash on phones is not bright enough to help. It will also slow down your ability to rapidly take photos. Try taking photos with it turned off first.
Except for immediate social media posts, avoid cropping or adjusting the photo using the tools within the photo gallery. Instead, have the photo cropped or adjusted on a desktop computer.