At UConn Health, our Cardiovascular Genetics Clinic provides complete diagnostics and the latest treatments for genetic cardiovascular disorders.
We work with our patients to treat those already diagnosed with a genetic cardiovascular condition or individuals whose family history points to a higher risk of developing cardiovascular diseases.
Our Cardiovascular Genetics Clinic also collaborates with specialists in heart failure, electrophysiology, and interventional cardiology to develop an integrated diagnostic and treatment plan for patients.
We work closely with referring primary care providers and cardiologists in the community to provide personalized risk assessment, diagnostic testing, and treatment recommendations for the following disorders:
Cardiomyopathies
Dilated
Hypertrophic
Restrictive
Non-compaction (LVNC)
Skeletal muscle myopathies
Heart Rhythm/Arrhythmia Disorders
Long QT syndrome (LQTS)
Brugada syndrome
Catecholaminergic polymorphic ventricular tachycardia (CPVT)
Arrhythmogenic right ventricular cardiomyopathy (ARVC/D)
High Cholesterol (Hypercholesterolemia)
Congenital Heart Disease
Vascular Disorders
Marfan syndrome
Loeys-Dietz syndrome
Ehlers-Danlos syndrome
Other connective tissue disorders
Using Precision Medicine to Prevent Sudden Cardiac Death
Mike Papale was an elite high school basketball player when his heart suddenly stopped beating.
Advanced Genomic Testing
Dr. J. Travis Hinson is using the power of advanced genomic testing in his laboratory to empower his heart patients and their families.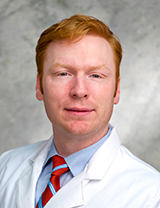 Dr. Travis Hinson, a board-certified cardiologist with subspecialty training in cardiovascular genetics, directs the clinic and provides genetic testing, genetic counseling, personalized risk stratification, and family-based screening services for patients.
Contact
Cardiovascular Genetics Clinic
Pat and Jim Calhoun Cardiology Center
UConn Health
263 Farmington Avenue
Farmington, CT 06030-2202
Phone: 860-679-3343 or 860-679-4749
Fax: 860-679-4256
Email: hinson@uchc.edu