At the Pat and Jim Calhoun Cardiology Center, there is good news to take to heart. An experienced team of cardiologists, nurses, surgeons, vascular surgeons and other specialists offers complete care for patients with cardiovascular diseases.
In fact, UConn Health is one of only a handful of Connecticut hospitals offering a full range of services to detect and treat cardiovascular diseases. This includes sophisticated medications and advanced imaging, such as MRI, non-invasive CT scan of coronaries, echocardiography and nuclear imaging. We also provide interventional and surgical procedures, such as angioplasty, open heart surgery, minimally invasive vascular surgeries, device implantations and cardiac ablation procedures.
We are also deeply committed to the prevention of heart disease, through advances in cardiovascular research and outreach efforts such as screenings and free lectures throughout the community. We also work closely with patients to manage risk factors such as cholesterol disorders and high blood pressure.
We have so much to offer at the Pat and Jim Calhoun Cardiology Center. But don't take my word for it alone! The state Department of Public Health has recognized us for excellent treatment of patients with heart attack and heart failure. In addition, a national organization, CareScience, recognized our superior outcomes in the use of angioplasty and stents to unblock narrowed coronary arteries in patients with heart attacks.
We are very proud of our success and most importantly, stand ready to provide complete care for the men and women of Connecticut. To learn more, call 860-679-3343.
Bruce T. Liang, M.D., FACC
Dean, UConn School of Medicine
Director, Pat and Jim Calhoun Cardiology Center
Ray Neag Distinguished Professor of Cardiovascular Biology and Medicine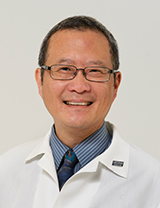 Bruce T. Liang, M.D., FACC
Dean, UConn School of Medicine
Director, Pat and Jim Calhoun Cardiology Center
Ray Neag Distinguished Professor of Cardiovascular Biology and Medicine