Testicular cancer is a form of cancer that originates in the testicles. The testicles, located within the scrotum, below the penis, are responsible for producing sperm and testosterone. While testicular cancer is relatively rare in the general population, it is the most commonly diagnosed cancer in teenagers and young men.
Some of the symptoms of testicular cancer include pain or discomfort in the scrotum, a lump in the testicle, an enlargement of the testicle, fluid in the scrotum, and back pain.
To diagnose testicular cancer, your doctor will ask you questions about your family medical history and conduct a thorough physical exam. If a lump is suspected, the most common test for testicular cancer is an ultrasound.
Once you receive a cancer diagnosis, the cancer will be staged to determine how far it has progressed. Depending on the stage and type of cancer, your team of medical professionals will meet to discuss your specific circumstance and devise a treatment plan tailored to you. The treatment plan would likely include surgery, chemotherapy, or radiation therapy.
Testicular cancer is highly treatable with many patients experiencing favorable outcomes even if the cancer is discovered after it as already spread. The likelihood is surviving for 5 years or longer after a diagnosis of testicular cancer is over 90% if the cancer is contained to the testicles and surrounding regions.
Request an Appointment
To schedule an appointment or for more information, call: Toll-free: 800-579-7822 Local: 860-679-2100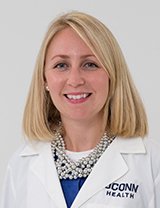 Ashley Aust, B.S.N., R.N.
Gynecologic Oncology and Genitourinary
Phone: 860-505-9104
Email: aust@uchc.edu
Fax: 860-676-3442