Melanoma is an uncommon but serious skin cancer, and experts at the Neag Comprehensive Cancer Center offer complete care for melanoma. From prevention and early detection to today's most sophisticated treatments, UConn Health's melanoma program offers many services you won't find anywhere else including:
Total body imaging to monitor and track skin changes for high-risk patients
Mohs Surgery-the most precise and effective way of removing cancerous tissue
On-site pathology lab dedicated solely to skin conditions to read and interpret test results
In addition to cutting-edge technology, the center also uses a multidisciplinary approach where dermatologists, dermopathologists, oncologists, and researchers all work together to provide complete and thorough care by a team of professionals.
Cutaneous Oncology Center
Thanks to generous donations from the community, a new skin cancer center is being created to enable innovative collaboration between physicians and researchers. The Cutaneous Oncology Center will improve care for generations to come.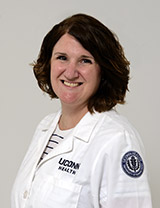 Wendy Thibodeau, M.S.N., R.N., O.C.N.
Lung, Skin, Sarcoma
Phone: 860-692-8455
Email: wthibodeau@uchc.edu
Fax: 860-676-3434