Rectal cancer is cancer of the rectum which is part of the large intestine located at the bottom of the colon and above the anus. The rectum is part of the digestive tract and the gastrointestinal tract, and it stores feces until it is released into the anal canal. Rectal cancer is frequently grouped with colon cancer and referred to as colorectal cancer.
The symptoms of rectal cancer are similar to those of colon cancer. They can include changes in bowel movements such as constipation, diarrhea, mucus or blood in the stool, and pain, in addition to unexplained weight loss, fatigue, and anemia.
Diagnosing rectal cancer usually involves a colonoscopy. During a colonoscopy, a tiny, lit camera is attached to the end of a long flexible tube, and it is inserted into the rectum and colon. Sometimes a biopsy is performed in conjunction with the colonoscopy, and the extracted tissue can be more closely examined in a laboratory setting.
Depending on the stage of the cancer, rectal cancer is most commonly treated with a combination of different therapies such as surgery, chemotherapy, and radiation therapy. Your team of doctors and rectal cancer specialists will meet to discuss the stage and location of your cancer and your overall health, and they will develop a treatment plan tailored to you.
If rectal cancer is caught in the early stages, the prognosis is very favorable with a cure rate of over 80%. Once the cancer spreads to the surrounding tissue, the cancer is much more difficult to treat. Early intervention is key. If you are experiencing any of the symptoms mentioned above, make an appointment with your doctor to discuss your concerns.
Request an Appointment
To schedule an appointment or for more information, call: Toll-free: 800-579-7822 Local: 860-679-2100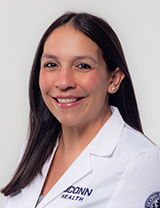 Tori-Lynn Pacelle, B.S.N., R.N.
Bile Duct, Brain, Colon, Endocrine Neoplasia, Gall Bladder, Head and Neck, Liver, Pancreatic, Rectal, Gastric
Phone: 860-466-9760
Email: pacelle@uchc.edu
Fax: 860-676-3434