Lymphoma is a blood cancer that affects the lymphatic system which is part of the body's immune system and is responsible for helping to detoxify the body. Lymphoma is one of the most common types of cancer in the United States, and it affects men more frequently than women. There are several different types of lymphoma, but they do present with similar symptoms.
The symptoms of lymphoma include swelling of the lymph nodes, night sweats, unexplained weight loss, fever, and fatigue. If you are experiencing these symptoms and they are persistent, discuss your concerns with your doctor.
Diagnosing lymphoma usually begins with a thorough medical exam. Your doctor will likely order blood work, and, if further testing is needed, a bone marrow aspiration and biopsy, or the removal of the lymph nodes for further testing. In some cases, your doctor may order imaging tests, such as a CT scan or MRI, to see if the lymphoma has spread to other parts of the body.
Treatment of lymphoma usually involves the use of chemotherapy or other targeted drug therapies. Other options include radiation therapy or a bone marrow transplant. Your team of lymphoma specialists will thoroughly examine your test results and medical history and tailor a treatment plan for you.
Lymphoma is a treatable condition, and the five-year survival rate tops 80% when lymphoma is caught in its early stages. With advances in medicine, that number is increasing. Experts here at UConn Health and around the world tirelessly research new ways to beat lymphoma every day.
Request an Appointment
To schedule an appointment or for more information, call: Toll-free: 800-579-7822 Local: 860-679-2100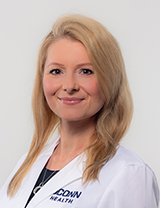 Meg Savage, B.S.N., R.N.
Leukemia, Lymphoma, Multiple Myeloma
Phone: 860-308-4483
Email: savage@uchc.edu
Fax: 860-676-3434