Lung cancer refers to cancer that originates in the lungs, and it is the leading cause of cancer deaths in the United States for both men and women. People who smoke are at the highest risk for developing lung cancer.
Like many types of cancer, lung cancer rarely produces symptoms in its early stages. Once symptoms do appear, they can include shortness of breath, coughing up blood, chest pain, a persistent cough, and unexplained weight loss.
If your doctor suspects you may have lung cancer, he will order imaging tests such as an X-ray or a CT scan. He may also order a biopsy where a sample of your lung tissue will be collected for further examination in a lab.
UConn Health is also proud to offer a screening process that can detect lung cancer in its earliest stages using very low doses of radiation. If you think you may have an increased risk of developing lung cancer based on the risk factors, your physician can help you determine if this screening test is right for you.

If the presence of cancer is confirmed in the lung, it will then be staged to see how far along it has advanced. Your doctor will then work with a team of cancer specialists to develop an individualized treatment plan that is ideal for you and your specific type and stage of cancer. Your treatment plan might include surgery that ranges from removing a small portion of the lung to removing the entire lung, radiation therapy, chemotherapy, medications, and immunotherapy.
While lung cancer is one of the more difficult cancers to beat, it is possible, and survival rates increase if the cancer is found early. Stopping smoking decreases your risk for lung cancer, even if you've smoked for many years. Quitting will have immediate positive effects on your health.
Request an Appointment
To schedule an appointment or for more information, call: Toll-free: 800-579-7822 Local: 860-679-2100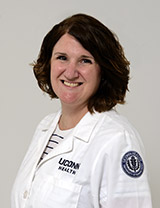 Wendy Thibodeau, M.S.N., R.N., O.C.N.
Lung, Skin, Sarcoma
Phone: 860-692-8455
Email: wthibodeau@uchc.edu
Fax: 860-676-3434