Leukemia is a type of cancer that occurs when the body produces a large amount of abnormal or underdeveloped white blood cells. The cancer usually originates in the bone marrow. There are many different kinds of leukemia, with some being more prevalent in children, and some occurring mostly in adults.
The symptoms vary depending on the type of leukemia, but common symptoms include easy or unexplained bruising, fatigue, fever, chills, unexplained weight loss, and night sweats. If you are experiencing persistent symptoms, share your concerns with your doctor.
To diagnose leukemia, your doctor will begin by giving you a thorough physical examination and will collect information about your family history of cancer. The doctor will likely order blood tests to check for a high occurrence of abnormal white blood cells. If further testing is indicated, a bone marrow aspiration and biopsy can help confirm the diagnosis and can aid your doctor in determining a plan of treatment.
Leukemia is frequently treated with chemotherapy or radiation therapy. Immunotherapy and stem cell transplants are two other options that your team of doctors will consider when they create a treatment plan individualized for your type of leukemia.
Leukemia is curable, and survival rates are climbing year after year. Due to groundbreaking research and clinical trials, a patient diagnosed with leukemia has a higher chance of survival than ever before with the majority of patients surviving 5 years or longer after diagnosis.
Request an Appointment
To schedule an appointment or for more information, call: Toll-free: 800-579-7822 Local: 860-679-2100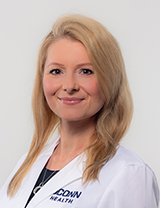 Meg Savage, B.S.N., R.N.
Leukemia, Lymphoma, Multiple Myeloma
Phone: 860-308-4483
Email: savage@uchc.edu
Fax: 860-676-3434