Endometrial cancer, also called uterine cancer, is a cancer that forms in the lining of the uterus called the endometrium. It is the most commonly diagnosed gynecologic cancer, and it is frequently caught early which leads to very high survival rates.
Unlike many other types of cancer, endometrial cancer commonly causes early symptoms such as vaginal bleeding after menopause, bleeding or vaginal discharge between periods, and pelvic pain. If you experience any of these symptoms, make an appointment with your doctor to discuss your concerns.
During diagnosis, your doctor will perform a thorough physical examination and discuss your family and medical history. The doctor may perform an exam and biopsy. Usually, the biopsy can be done in the office, but sometimes it requires a minor surgical procedure to obtain a biopsy.
The most common treatment for endometrial cancer is surgery to remove the uterus (hysterectomy). Other treatment options include radiation therapy, chemotherapy, and hormone therapy. Your team of care providers will discuss your diagnosis and create a treatment plan tailored to your specific type and stage of cancer.
Because the symptoms of endometrial cancer often appear in the early stages, it has very high survival rates and favorable outcomes. Patients are often completely cured of endometrial cancer and remain cancer free for years after treatment.
Request an Appointment
To schedule an appointment or for more information, call: Toll-free: 800-579-7822 Local: 860-679-2100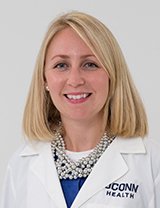 Ashley Aust, B.S.N., R.N.
Gynecologic Oncology and Genitourinary
Phone: 860-505-9104
Email: aust@uchc.edu
Fax: 860-676-3442