Cervical cancer develops in the cervix which is found in the lowest part of the uterus. Cervical cancer is one of the more common cancers or "pre-cancers" diagnosed in women, and most of the occurrences of cervical cancer are caused by the human papillomavirus (HPV).
In its early stages, cervical cancer often has no accompanying symptoms. As the cancer progresses, some women may experience vaginal bleeding in between periods, after menopause, or after sex. Other symptoms include pain during sex and pelvic pain.
A routine Pap test is a simple procedure where your doctor will scrape cells from the cervix for laboratory examination. It is common to receive an HPV test at the time of your Pap test. If abnormal cells are discovered, or high-risk HPV detected, your doctor will perform a thorough physical examination of the cervix and, if appropriate, perform a biopsy to confirm the presence of cervical cancer or pre-cancer.
Once you receive a cervical cancer diagnosis, the cancer will be staged to discover how advanced it is. Depending upon the stage, your comprehensive team of cancer care specialists will develop a treatment plan specific to your diagnosis. It will likely include surgery, radiation therapy, or chemotherapy.
Cervical cancer is highly treatable if it is caught early. The survival rate exceeds 90% with early detection and intervention. With the absence of early symptoms, routine Pap and/or HPV tests are vital for early diagnosis, treatment, and survival of cervical cancer.
Request an Appointment
To schedule an appointment or for more information, call: Toll-free: 800-579-7822 Local: 860-679-2100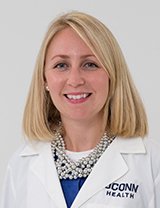 Ashley Aust, B.S.N., R.N.
Gynecologic Oncology and Genitourinary
Phone: 860-505-9104
Email: aust@uchc.edu
Fax: 860-676-3442