Gallbladder cancer is a rare cancer that affects the gallbladder, the organ located just below the liver that is responsible for storing and releasing bile from the liver to aid in the digestion of fat. Gallbladder cancer often begins with few to no symptoms, so it is more difficult to diagnose. It is frequently found during treatment for gallstones.
When symptoms do develop, the appearance of jaundice, abdominal pain, bloating, nausea, and vomiting are common. If you experience these symptoms and they persist, make an appointment with your doctor.
Diagnosis of gallbladder cancer generally begins with a physical exam and blood tests. If further testing is indicated, your doctor will likely order imaging tests such as an ultrasound, CT scan, or MRI.
Once the gallbladder cancer is diagnosed and the stage of the cancer is pinpointed indicating how far the cancer has progressed, your team of medical professionals will create an individualized treatment plan. This treatment plan will likely include surgery, chemotherapy, or radiation therapy.
Gallbladder cancer can have a favorable outcome, especially if it is caught early. As the stages advance, the survival rates drop in accordance. Early detection and treatment are crucial. If you suspect you may have gallbladder cancer, it is important to see your doctor right away.
Request an Appointment
To schedule an appointment or for more information, call: Toll-free: 800-579-7822 Local: 860-679-2100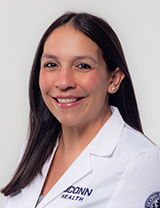 Tori-Lynn Pacelle, B.S.N., R.N.
Bile Duct, Brain, Colon, Endocrine Neoplasia, Gall Bladder, Head and Neck, Liver, Pancreatic, Rectal, Gastric
Phone: 860-466-9760
Email: pacelle@uchc.edu
Fax: 860-676-3434