Cholangiocarcinoma, more commonly known as bile duct cancer, is cancer that originates in the bile ducts. Bile ducts are a part of the biliary system that also includes the liver and gallbladder. They are responsible for moving bile from the liver to the gallbladder to the small intestine.
The symptoms of bile duct cancer are usually caused by a bile duct blockage which leads to increased bilirubin (a substance found in bile) such as jaundice, itching, clay-colored stools, and dark urine. Other symptoms include abdominal pain, fever, nausea, and vomiting.
Request an Appointment
To schedule an appointment or for more information, call: Toll-free: 800-579-7822 Local: 860-679-2100
Diagnosis of bile duct cancer usually begins with a thorough physical examination and medical history. Your doctor may then order blood work to check biliary system function and look for cancer markers. Imaging tests such as ultrasounds, CT scans, and MRIs are also commonly ordered.
Treatment will vary depending on how advanced the cancer is, but, generally, surgery, radiation therapy, and chemotherapy are considered. Your team of medical professionals will meet to discuss your specific type and stage of cancer and your medical history to create a personalized treatment plan.
Not all tumors that develop in the bile ducts are cancerous, but if you experience any of the symptoms listed above, it's important to see a doctor right away. As with most cancers, early intervention can lead to more favorable outcomes.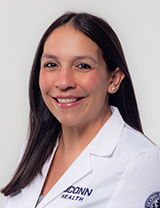 Tori-Lynn Pacelle, B.S.N., R.N.
Bile Duct, Brain, Colon, Endocrine Neoplasia, Gall Bladder, Head and Neck, Liver, Pancreatic, Rectal, Gastric
Phone: 860-466-9760
Email: pacelle@uchc.edu
Fax: 860-676-3434