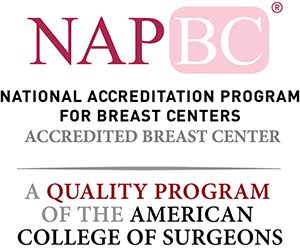 At UConn Health, patients receive highly personalized, state-of-the-art care from a team of experts who specialize in every dimension of treatment of breast health, from routine screening and imaging to surgical treatments, reconstruction, chemotherapy, radiation, and rehabilitation.
We reach out to the community with breast cancer screening education to help raise awareness about prevention, early detection, and new advances in care; and provide scheduling and financial assistance for those in need. Innovative services are offered to help patients create long-term strategies for cancer prevention and survivorship.
The Breast Program cares for patients with a vast range of breast concerns. Because no two patients are alike, every treatment plan is unique, reflecting a comprehensive approach to care.
The heart of our breast health services is our team approach where patients with breast cancer receive highly personalized treatment. Every patient's case is carefully reviewed, on an ongoing basis, by a diverse team of specialists including:
Fellowship-trained surgeons with experience in surgical oncology with surgical care provided in state-of-the-art operating rooms utilizing the latest technology and oncoplastic techniques.
Medical oncologists who specialize in breast cancer and breast health, board-certified in hematology and internal medicine.
Specialized nurses and nurse practitioners certified in oncology care.
Screening and diagnostic imaging that includes radiologists with fellowship training in breast imaging and intervention.
Breast nurse navigator who is dedicated to coordinate the clinical, educational and supportive needs of patients who are either facing a possible breast cancer diagnosis or newly diagnosed with breast cancer.
Experienced, compassionate physicians in radiation oncology provide specialized, state-of-the-art treatments for a wide variety of malignant diseases.
Referrals/consultations with board-certified genetic counselors.
Breast Cancer Services
Along with our team approach, other services for patients with breast cancer include:
Care from nationally recognized experts and an accomplished and experienced medical team.
Today's most sophisticated technologies that includes 3D genius mammography (Tomosynthesis) and 3D automated ultrasound at the Beekley Imaging Center with same day readings in a comfortable spa-like environment.
Experienced support care services including lymphedema therapy, nutrition, reproductive endocrinology and infertility, survivorship care planning, and a support group.
Access to today's most promising clinical trials to enhance care.
Unique services to address all of your concerns, such as the Cancer Fatigue Clinic to help patients manage fatigue during treatment
Emotional support through our social work service, caregiver lounge, supportive care APRN, and pastoral care program.
On-site American Cancer Society Navigator who provides direct assistance to patients every step of the way throughout with services including:

Support groups like Reach to Recovery
Transportation to treatment appointments through Road to Recovery
Assistance with wigs and cosmetic concerns through Look Good Feel Better
Up-to-date information kits
24-hour hotline for immediate assistance

Expert care through the Hereditary Cancer Program to empower patients with ongoing knowledge in genetics to identify individuals at high risk for breast and other cancers.
Breast Cancer Information
Please follow our Breast Cancer Resource Guide links below to obtain up-to-date information about breast cancer. These links delve into cancer prevention, detection and treatment, and provide a wealth of additional resources.
The Breast Program at the Carole and Ray Neag Comprehensive Cancer Center has been granted a three-year full accreditation by the National Accreditation Program for Breast Centers (NAPBC), an accrediting body administered by the American College of Surgeons. NAPBC-accredited breast centers are dedicated to providing the best patient-centered care. The breast program is a regional center of excellence for women's health that integrates state-of-the-art technology, investigator initiated clinical trials, and personalized treatments. Training the next generation of breast health providers and educating the community is a priority.
Our Specialists and Staff
Request an Appointment
Call 800-579-7822 or 860-679-2100
Reach our nurse navigator: 860-480-1981
Schedule a mammogram: 860-679-2784
Referral line for physicians: 860-480-1981
Patient Resources
At UConn Health
On the Web