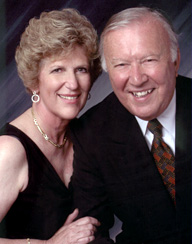 Carole and Ray Neag have a strong history of philanthropic support for the University of Connecticut and the UConn Health Center. Their motivation is simple: to improve the lives of Connecticut families today and in years to come.
In 2004, the Neags made an extraordinary $10 million gift – the largest philanthropic donation in UConn Health's history – to the cancer program, now called the Carole and Ray Neag Comprehensive Cancer Center. This generous gift continues to support cancer research and clinical services. Their lasting goal is that Connecticut residents will never have to travel far for world class cancer care.
"We have seen firsthand the advances that are occurring daily within the Cancer Center and understand the tremendous implications for those whose lives are affected by this disease," Ray Neag said.
In recent years, the Neags' generosity has continued. In 2006, they made a substantial gift that allowed UConn Health to obtain the first TomoTherapy radiation oncology system in Connecticut. This truly revolutionary treatment targets tumors with unprecedented precision and at the same time, protects healthy tissue.
In 2008, the Neags' generosity allowed UConn Health to create an integrated imaging suite for faster, more comfortable and more precise diagnosis, planning and treatment services. This suite included a high-end, multi-slice scanner that perfectly serves the UConn Health's missions of research, education and clinical care.
Connecticut has long been in the hearts of Mr. and Mrs. Neag, who are both natives of Torrington. Ray Neag is also a graduate of UConn and is the retired co-founder and vice chairman of Arrow International, Inc., a leading manufacturer of disposable critical care and cardiac products for the medical industry. Previous donations to the University have supported the Neag School of Education at Storrs and the cardiology program at UConn Center.