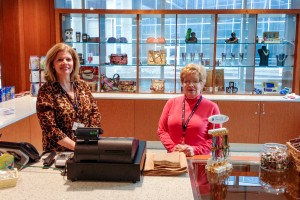 The Connucopia Gift Shop opened in 1975. It is located on the M-level at UConn John Dempsey Hospital, near the chapel and is staffed by volunteers.
The gift shop is here for the needs of the UConn Health family and its patients. It offers stationery, jewelry, stuffed animals, baby clothing, officially licensed UConn merchandise, fresh flowers, snacks and more. Gift certificates and gift cards are available, and gift shop purchases are exempt from the state sales tax.
A gift kiosk opened on the first floor of the Outpatient Pavilion in 2015 which is also staffed by volunteers.
Proceeds from gift shop sales benefit the Auxiliary's programs and projects.
Please call 860-679-2963 to ask about volunteer opportunities.