UConn Health offers on-site child care for children ages 8 weeks to 5 years old. Because we are an on-site center, you will have many opportunities to visit and interact with your child on a daily basis. The center's close proximity to the hospital and UConn Health offers opportunities for parents to participate in the program with their child. Parents may visit the center, enjoy lunch with their child, participate in their activities, and enrich the program with their special talents.
We have a qualified staff of teachers in the field of Early Childhood Education or a related field who are eager to work with you in the area of child development. All of our staff are certified in first aid and infant and child CPR as well as medication trained.
It is our goal to make the parents and children feel that the Creative Child Center is an extension of their family life. We strive to provide a safe, caring and educational environment for the children. We believe in a "whole child development" curriculum, which includes the physical, emotional, social and intellectual development of the child. UConn Health recognizes the need for quality childcare for their employees and has made a strong commitment to fulfilling this need through the Creative Child Center.
The center is accredited by the National Association for the Education of Young Children (NAEYC) and meets all of the state requirements for center-based licensure.
The Creative Child Center was established by the UConn Health Auxiliary to provide education, care and nurturing to the children of the UConn Health community. We also serve a small part of the community that are not UConn Health employees, when space is available.
The Creative Child Center holds family events that include:
Bake sales
Halloween parade
Thanksgiving gathering
Holiday sings
Valentine party
Talent show
Preschool art show
Graduation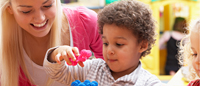 Benefits of Daycare
Parents stress over the decision to send their child to daycare. Learn more >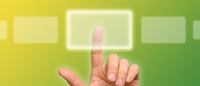 Hours of Operation
Monday to Friday, 6:30 a.m. to 6 p.m.
Eligibility
Open to children of the UConn Health community, ages 8 weeks to 5 years.
Contact
Barbara Brush, Interim Director and Head Teacher, 860-679-2124