Leadership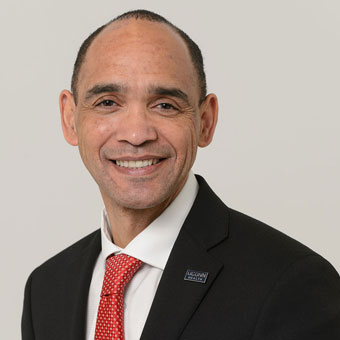 Chief Executive Officer, UConn Health
Executive Vice President for Health Affairs
Andrew Agwunobi, M.D., M.B.A.
860-679-2594
agwunobi@uchc.edu
Andrew Agwunobi, M.D., M.B.A., chief executive officer and executive vice president for health affairs at UConn Health, is a nationally recognized leader in health care administration and performance improvement. He is a director with the Berkeley Research Group (BRG) which has been actively engaged in vital work with UConn Health for more than a year. Before joining BRG, Dr. Agwunobi served as chief executive of Providence Healthcare, a five-hospital region of Providence Health & Services in Spokane, Washington.
He previously held the positions of president and chief executive officer of Grady Health System in Atlanta; president and CEO of Tenet South Fulton Hospital in East Point, Georgia; chief operating officer of 14-hospital St. Joseph Health System in California; and secretary of the Florida Agency for Health Care Administration. In addition, Dr. Agwunobi has served as chief of the Main Pediatric Urgent-Care Department for Harvard Vanguard Medical Associates in Boston.
A board-certified pediatrician, Dr. Agwunobi received a master of business administration from the Stanford Graduate School of Business.
---
Administrative Leadership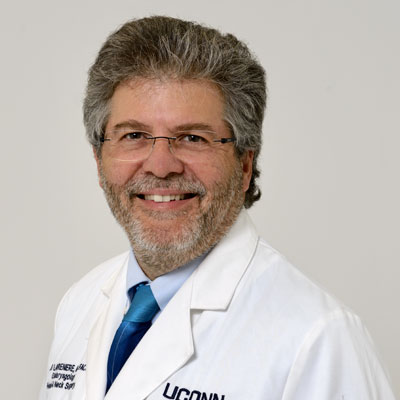 Denis Lafreniere, M.D.
Medical Director, UConn Medical Group
Associate Dean, Clinical Affairs
860-679-3372
lafreniere@uchc.edu
---
Board of Directors
Francis X. Archambault Jr.
Professor Emeritus
University of Connecticut
Richard M. Barry
Chief Risk Officer and Executive Vice President
First Niagara Financial Group
Andy F. Bessette
Executive Vice President and Chief Administrative Officer
The Travelers Companies, Inc.
Francisco L. Borges
Chairman and Managing Partner
Landmark Partners Inc.
Richard T. Carbray Jr.
Owner
Apex Pharmacy, Home Care and Nutritional Center
Cheryl A. Chase
Executive Vice President, Principal and General Counsel
Chase Enterprises
Sanford Cloud Jr., Chair
Chairman and Chief Executive Officer
Cloud Company, LLC
Robert S. Dakers
Executive Financial Officer
Office of Policy and Management (OPM), State of Connecticut
John F. Droney
Partner
Hinckley Allen Snyder, LLP
Joel Freedman
Independent Public Policy Consultant
Susan Herbst
President
University of Connecticut
Timothy A. Holt
Independent Business Consultant
Wayne Rawlins
Vice President and Senior Medical Director
Healthcare Services, ConnectiCare, Inc.
Teresa M. Ressel
Private Company Management
Charles W. Shivery
Retired Chairman
Northeast Utilities
Kathleen D. Woods
Chairperson
Farmington Woods Golf Club